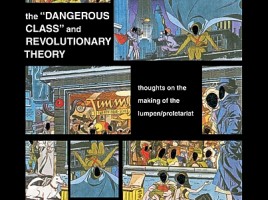 by J. Sakai
paperback
308 pages
ISBN: 978-1-894946-90-2
J. Sakai's ground-breaking,
The "Dangerous Class" and Revolutionary Theory: Thoughts on the Making of the Lumpen/Proletariat
, is our first major exploration of this most controversial and least understood "non-class" in revolutionary politics. It is an attempt to unknot the puzzle.  It encompasses the threads of criminality as well as gender, of breaking social boundaries and eating the bitterest of class politics.
At all times, the author interrogates the forming of left theory on this "dangerous class" by the highway flare  of his own experiences, and more importantly the mass violent liberation ...........READ MORE