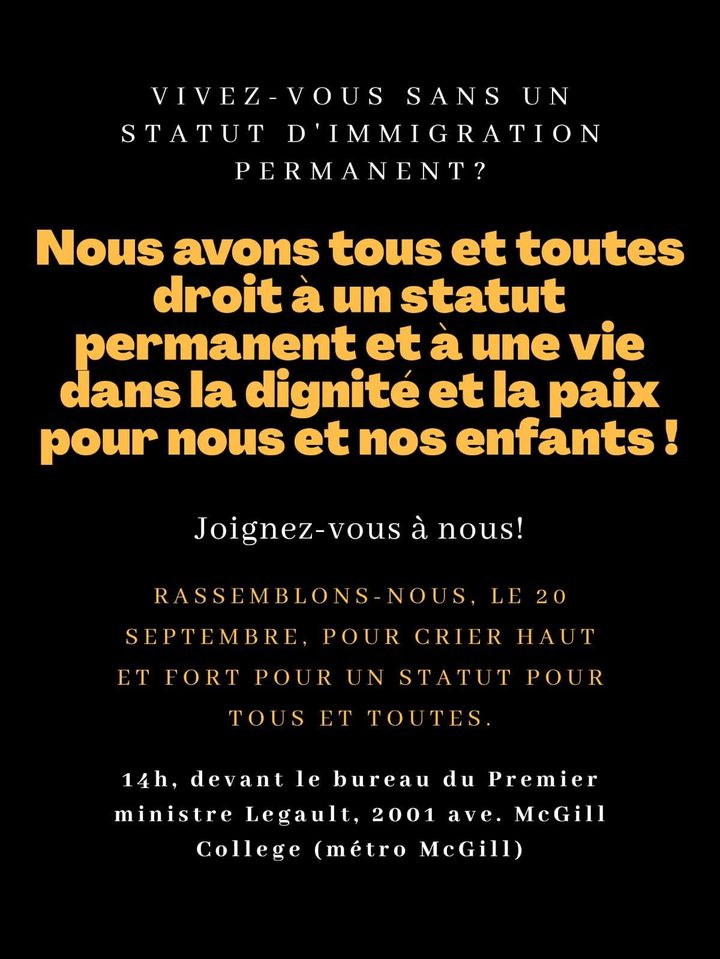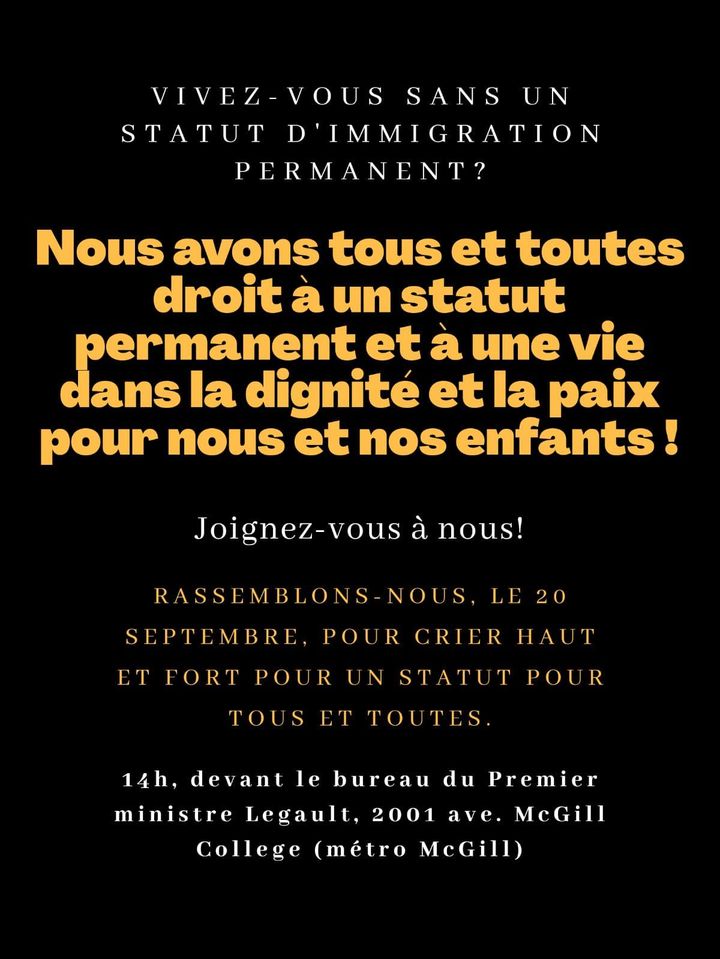 [english below] JOURNÉE PAN-CANADIENNE POUR UN STATUT POUR TOUS ET TOUTES
Vous vivez sans statut permanent ? Tout le monde a le droit à un statut permanent et à une vie de dignité et de paix pour eux et elles-mêmes, et leurs enfants ! Joignez-vous à nous ! Soyons ensemble le dimanche 20 septembre et crions haut et fort pour un statut pour tous et toutes !
Nous nous adressons à toutes les personnes sans statut permanent qui résident au Canada. Nous ne savons pas depuis combien d'années vous êtes ici, comment vous avez survécu à tous les vents et marées qui se sont dressés devant vous, comment vous avez fait pour vous protéger vous-mêmes et vos familles malgré toutes les conditions difficiles rencontrées ici au Canada, surtout avec la pandémie de la COVID-19 — sans accès aux soins de santé, au permis de travail ou aux prestations d'urgence. Nous comprenons votre déception et votre colère après l'annonce de Marco Mendicino, ministre de l'Immigration, des Réfugiés et de la Citoyenneté, qui a déclaré que vous serez exclu-e-s de son programme de régularisation. Votre réaction est légitime.
Nous méritons tous et toutes à une reconnaissance – pas seulement à la lumière de tous les efforts fournis pendant ces temps difficiles mais en tant qu'êtres humains égaux. Nous croyons qu'une solution juste doit être mise de l'avant, soit un programme de régularisation qui inclut tout le monde sans exception.
Dans les derniers mois, Solidarité Sans Frontières a organisé plusieurs manifestations afin de réclamer un statut pour tous et toutes : la grande manifestation du 4 juillet au parc Émilie-Gamelin ; le rassemblement pour briser la peur du 26 juillet au 1010 Saint-Antoine ; manif du 8 août devant le bureau de Mr Justin Trudeau pour dire que nous sommes tous et toutes essentiel-le-s ; des tintamarres le 23 août dans différents quartiers de Montréal (Côte-Des-Neiges, Centre-ville, Parc-Extension et Montréal-Nord).
Plusieurs parmi nous vivent aussi dans l'ombre depuis des années et il est temps pour nous de vivre comme les autres. Nous sommes déjà impliqué-e-s activement dans la société canadienne, plusieurs parmi nous travaillons et nous sommes forcé-e-s d'accepter les emplois les plus dangereux afin de subvenir à nos besoins. La dignité est un droit pour chaque être humain. Nous devons agir pour restaurer la dignité de chaque personne, en lui assurant un statut digne en tant qu'être humain qui a le droit de vivre en paix, avec ses enfants.
Nous vous invitons tous et toutes à vous joindre à nous, peu importe votre statut. Nous sommes uni-e-s par un même objectif, soit un statut pour tous et toutes. Nous y parviendrons ensemble, et nous sommes déterminé-e-s à aller jusqu'au bout et à gagner notre lutte. Nous réussirons en joignant notre voix à la vôtre — l'union fait la force.
/////
MARCH FOR A COMPREHENSIVE REGULARIZATION PROGRAMME. PAN-CANADIAN DAY FOR STATUS FOR ALL
Are you living without permanent immigration status? We all have a right to permanent status, and a life of dignity and peace for ourselves and our children! Join us! Let's come together on Sunday, September 20th to demand Status For All!
We're speaking to all those without permanent immigration status in Canada: we do not know how many years you have been here; how you have survived all the winds and tides you have encountered, how you have protected yourself and your families in spite of all the difficult conditions you've experienced here in Canada – especially with the COVID-19 pandemic, where you were left without access to full health care, work permits or emergency relief. We understand your disappointment and anger following Immigration Minister Marco Mendicino's announcement of his regularization program, which excluded you. Your reaction is legitimate!
We all deserve recognition – not just for all our efforts made during these difficult times but as equal human beings! We believe that there must be a just solution: a regularization program that includes everyone without exception.
Over the past months, Solidarity Across Borders has organized numerous protests to demand status for all: our large march on July 4th at Émile Gamelin park; on July 26th, we gathered at 1010 Saint Antoine to break the fear; on August 8th, we went to Justin Trudeau's office to say that we are all essential; and on August 23rd, we held "casseroles" in different Montreal neighbourhoods (Cote des Neiges, Downtown, Parc Extension and Montreal North).
Many of us have been living in the shadows for years and it's time for us to live like everyone else. We are already active members of Canadian society; many of us work and are even forced to accept the most dangerous jobs in order to survive. Dignity is a right for every human being. We must take action to restore dignity to everyone; we must ensure everyone has a dignified status because they are human beings who should be able to live together with their children in peace.
We invite all of you to join us no matter what your status. A single goal brings us all together : status for all of us. Together we will get there. We are determined to go the distance and to win our struggle, with our voice united with yours we will succeed —united we are strong!
—
Gran demostración para un programa de regularización para todos y todas. DIA PAN-CANADIENSE POR UN ESTATUS PARA TODOS
Vives sin estatus permanente ? Todxs tenemxs derecho a un estatus permanente. Unete a nosotros.
Nos dirigimos a todos aquellos sin un estatus migratorio permanente en Canadá: No sabemos cuántos años llevan aquí, cómo han sobrevivido al viento y marea que se les ha presentado, cómo se han protegido ustedes y a sus familias a pesar de las condiciones difíciles que han vivido en Canadá – especialmente con la pandemia de COVID-19, dónde quedaron sin acceso al sistema de salud, permisos de trabajo y ayuda de emergencia del gobierno. Comprendemos su desilusión y rabia luego del anuncio del plan de regularización del Ministro Marco Mendicino, del cuál quedaron excluidos.
Su reacción es legítima!
Todos merecemos reconocimiento – no sólo por nuestros esfuerzos durante estos tiempos difíciles, sino también en igualdad como seres humanos! Nosotros creemos que debe haber una solución justa: un programa de regularización que incluya a todos y cada uno sin excepción.
Muchos hemos vivido en las sombras por años y es tiempo para nosotros de vivir como todos los demás. Ya somos miembros activos de la sociedad Canadiense; muchos de nosotros trabajamos e incluso nos vemos forzados a aceptar los trabajos más peligrosos para poder sobrevivir. La dignidad es un derecho de todo ser humano. Debemos actuar para restaurar la dignidad de todos; debemos asegurar que todos tengamos un estatus digno porque somos seres humanos que deberíamos ser capaces de vivir juntos con nuestros hijos en paz.
Los invitamos a todos a unirse a nosotros sin importar su estatus. Un objetivo en común nos une: Estatus para todos. Juntos lo lograremos. Estamos determinados a hacerlo y ganar nuestra lucha, con nuestras voces y las suyas tendremos éxito – unidos somos fuertes!