Against Prisons, Against Borders: Keynote Event in Montreal with El Jones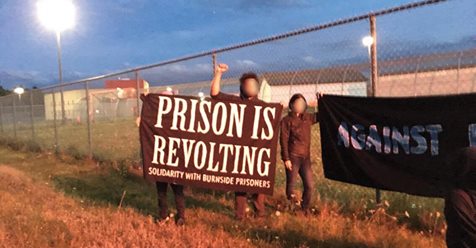 Thursday November 15, 2018
6:30pm-8:30pm
CEDA
2515 rue Delisle
Metro Lionel Groulx
Facebook: https://www.facebook.com/events/493957961084880/
Join us for a keynote talk highlighting the intersection of abolition struggles against prisons and borders!
Drawing on her recent work surrounding the Abdul Abdi deportation case and the Burnside prison strikes, El Jones will explore the links between prison abolition and anti-deportation work. El Jones is a poet, educator, journalist and advocate. She was the fifth Poet Laureate of Halifax, and currently holds the 15th Nancy's Chair in Women's Studies at Mount Saint Vincent University. El is a co-founder of the Black Power Hour, a radio show developed collectively with prisoners. Her advocacy and work fights anti-Black racism in Canada, walking in the path of our great-grandmothers who resisted relentlessly.
The talk will be introduced by Shanice Nicole, a Black feminist educator, facilitator, writer, and (out)spoken word artist. Her work intimately explores experiences of race, health, sexuality, oppression, and freedom.
Shanice Nicole is passionate about building community, connecting people with resources, and creating shared learning spaces. She believes that everyone has the inherent power to make change and the words of her favourite poet Maya Angelou always resonate deeply, "Do the best you can until you know better. Then when you know better, do better."
This event is taking place as part of Culture Shock 2018. More information is available here: https://www.facebook.com/events/610916882645067/
???? ACCESSIBILITY INFO ????
Childcare:
Childcare will be provided at this event.
Language:
Whisper translation will be available at this event.
La traduction chuchotée de l'anglais vers le français sera disponible.
ASL Interpretation will be available with 72-hour notice.
Physical Accessibility:
CEDA is a community education centre and the building is structured similar to a school – the main entrance (2515 rue Delisle) is located in Parc Vinet and connects to a large hallway where the bathroom and water fountain are located. There are two steps that are approximately 20 cm tall outside the doors and 9 steps that are 17 cm tall inside this entry way with railings on either side. This hallway connects to the auditorium through two sets of double doors – watch your step, there are two steps down (15 cm each) just inside these doors (which open out into the hallway) with railing on either side.
There is step-free entrance, located via the parking lot at 2520 rue Lionel-Groulx – 1.5 flat blocks directly from the Lionel-Groulx metro station, which has an elevator from all metro platforms up to the street level. This entrance is via a ramp at a 6:7 gradient. The ramp is 90 cm wide and 18 meters long with one turn on the ramp.
There is an additional ramp inside the building to get from the entrance into the auditorium, where our event will be taking place. The gradient of this ramp is 11:1, it is 118 cm wide and 2.5 metres long. There is one accessible stall in the bathroom, the door to this stall opens out and is 81 cm wide. There is a horizontal grab bar in this stall and 91 cm of space next to the toilet.
For a full access audit of the space, please see here:
https://drive.google.com/file/d/0ByH4O5BTV-MnR1hsUmJwNmNUMjQ/view?fbclid=IwAR0kHt1fPKDVynOqH7XQGtv-_lX58SftXY9gGzgY2t18wl7HQLqpJalfiUY
Scent free spaces:
All events are scent free. This means that all attendees should refrain from using any scented products prior to the event or bringing them to the event, including (but not limited to) perfume, cologne, shampoo, conditioner, soap, hairspray, or lotion. This scent-free policy is put in place to minimize risk for people with environmental sensitivities. For more information on this policy:
http://www.ccohs.ca/oshanswers/hsprograms/scent_free.html
If you have other questions or concerns related to accessibility, please don't hesitate to get in touch at 514 398 7432, info@qpirgmcgill.org, or send us a message on facebook.