Anti-69: Against the Mythologies of the 1969 Criminal Code Reform (Ottawa, March 23-24, 2019)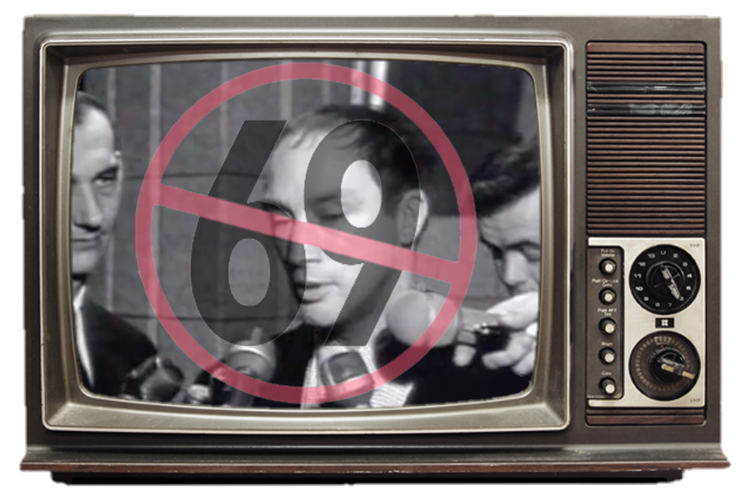 The Anti-69 Forum, to be held next weekend in Ottawa (March 23-24), will provide a forum for activists, academics, and community members to critically examine the mythologies surrounding the 1969 Criminal Code reform. As explained by the organizers, "We are Anti-69 because the federal government has planned and funded several efforts at commemorating the 50th anniversary of the so-called 'decriminalization' of homosexuality," yet, as they note:
The so-called decriminalization of buggery and gross indecency between only two adults in private merely recognized the obvious: the state did not have the resources to police the bedrooms of the nation using these Criminal Code provisions. Two people having sex completely in private would not usually be caught by law enforcement, and these are not the types of cases found in the historical records.

After 1969, police forces across Canada (who opposed the reforms in the Omnibus Bill) mobilized to charge queer people for their consensual sexual activities. This was in part because the 69 reform directed their attention to 'public' displays of queer sex. As nothing was repealed in 1969, the Omnibus Bill did not remove the construction of queer sex as 'indecent.' The 'public' was defined as basically anything outside shut bedroom doors with only two people.
Kersplebedeb and PM Press are both pleased to be participating in this radical queer conference in ottawa, canada, on the weekend of March 23-24. If you're able to make it, attendees are encouraged to register for the Anti-69 conference (income-based sliding scale registration fee, $0 for low income people). Registration includes access to conference panels and plenaries, and lunch on Sunday March 24. Register for the Anti-69 conference by clicking here.
More information can be found on the Anti-69 website (https://anti-69.ca) or facebook page (https://www.facebook.com/events/368008980467761/). A preliminary Programme follows:
Saturday March 23
12:00pm – Registration – Room: Richcraft Hall Atrium
12:30-1:45pm – Symposium Opening
Room: Richcraft Hall Atrium
Welcomes
1969 101: Brief contextual presentation on the Omnibus Bill
1:45-2:00pm – Break
2:00pm-4:00pm – Plenary: Critiques of the Just Society
Room: Richcraft Hall Atrium
Chair: Suzanne Lenon
Laura Hall, "White Settler Homonationalism and the Roots of Heterosexist Patriarchy"
Christo Aivalis, "P.E. Trudeau, the Just Society, and Attacks on Workers' Rights"
R. Cassandra Lord, "Disturbing Trudeau's 'Just Society': Tracking the Demarcations of Sexuality & Race in Canadian State Policies"
Danielle Normandeau, "Disability and Resistance: Intersections of Disability in the 1969 Criminal Code Reform"
Rinaldo Walcott, "The Black 1960s: Black Life after Sir George Williams & Other Stories of the Nation"
Punam Khosla, "A Debonair Deception: The Racist, Sexist, Heteronormative Violence of Nascent Canadian Neoliberalism"
4:00-4:15pm – Break
4:15-5:30pm Panels:
-Early Activism and We Demand
Room: 2228
Chair: Valerie Korinek
Gary Kinsman, "Organizing from Below for Law Reform in the 1960s"
Cheri DiNovo, "My Life in the Early 1970s: Feminism, Gay Liberation, and 'We Demand'"
Paul Macdonald, "My Involvement in Gay Liberation: From London to Toronto"
-Sex Work
Room: 2224
Chair: Dan Irving
Jenn Clamen, "Criminal Code Reform: A Long & Repetitive Story of Sex Workers Being Left Behind"
Jamie Magnusson, "Queer/Trans Sex Worker Organizing"
8:00pm – Film Screening of Forbidden Love
Location: SAW Video's Knot Gallery
Tickets required, click here to register
See Film and Video Program for more info
---
Sunday March 24
9:00-9:30am – Coffee and Pastries
Richcraft Hall Atrium
9:30-10:45am – Panel: Reproductive Justice
Room: Richcraft Hall Atrium
Chair: Sarah Rodiman
Judy Rebick, "The Omnibus Bill on Abortion: Sabotage or a Step Forward?"
Christabelle Sethna, "Seeing Red: The RCMP, the Abortion Caravan and the Omnibus Bill"
Shannon Stettner, "The 1969 Omnibus Bill & Forced Reproductive Labour"
Jula Hughes, "Abortion Law in the Rear View Mirror"
10:45-11:00am – Break
11:00am-12:15pm – Panels:
-Law and the 1969 Reforms
Room: 2224
Chair: Jula Hughes
Robert Leckey, "Criminal Family Law"
Karen Pearlston, "Notes on Lesbian Legal History"
Matthew Waites, "Who was Criminalised and Who was Decriminalised? Re-Assessing the British Empire's Criminalisation of Same-Sex Sexualities and Non-Binary Genders"
-Activism Then and Now
Room: 2228
Chair: Patrizia Gentile
Jamie Ross, "Pour un Front gay à Montreal: Fomenting Psychedelic Gay Radicalism in Rock and Roll Publication, Main Mise"
Rebecca Rose, "Before the Parade: Early Gay/Lesbian Liberation Organizing in Halifax"
Cameron Aiken, "Addressing the '69 Reform: An Organizational Approach to Institutionalized Homophobia & Transphobia in Canadian Institutions"
Leon Laidlaw, "State Violence in Times of 'Gender Equality': Examining the Case of Trans Prisoners"
12:15-1:15pm – Lunch
Richcraft Hall Atrium
1:15-2:30pm – Panels:
-Interrogating Queer Activist Histories
Room: 2228
Chair: Punam Khosla
Kai Rajala, "Searching for Solidarities between Gay Liberation & Indigenous Struggles for Self-Determination in 1970s 'Canada'"
Amy Verhaeghe, "Rethinking 'Progressive' Reform: The Racialization & Canada's 1969 Partial Decriminalization of Anal Sex"
Beverly Bain, "A 'New' War on Queers": Pride Toronto, the State, & Dissident Queers
-Was 69 a Turning Point?
Room: 2224
Chair: Chris Bruckert
Tom Hooper & Tim McCaskell, "Condom or Viagra: Did 1969 Recriminalize Homosexuality in Canada or did it Galvanize a Movement?"
Christine Sismondo, "Taverns and Tabloids: Tracking Changing Conversations and Tone from 1950-1981."
2:30-2:45pm – Break
2:45-4:00pm – Panels:
-Settler Colonialism, Homonationalism, and the Apology
Room: 2228
Chair: Beverly Bain
Emma Posca, "The Relation between the '69 Reform & the White Paper"
Suzanne Lenon, "Intersectionality as Diversity and the Politics of Queer Settler Remembering"
OmiSoore H. Dryden, "Black Queer Radical Thought in the UnJust Society"
-Sex, Crime & the Law
Room: 2224
Chair: Maggie FitzGerald
Angela Chaisson, "Non-Consensual Sharing of Intimate Images: What Have We Learned from Canada's Revenge Porn Laws?"
Lara Karaian, "Public Porn and Pleasure: Thinking Beyond the Bedrooms of the Nation"
Marcus McCann, "Are There Any Bad Sex Laws? Legal Analysis in the Absence of a Sex-Positive Frame"
4:00-4:15pm – Break
4:15-5:30pm – Closing Plenary
Beyond Anti-69
Room: Richcraft Hall Atrium
Chair: TBA
Alexa DeGagne
Richard Fung
Vincent Mousseau