Behind the Capitol Storming: Breaking Down the New Far Right [RADIO]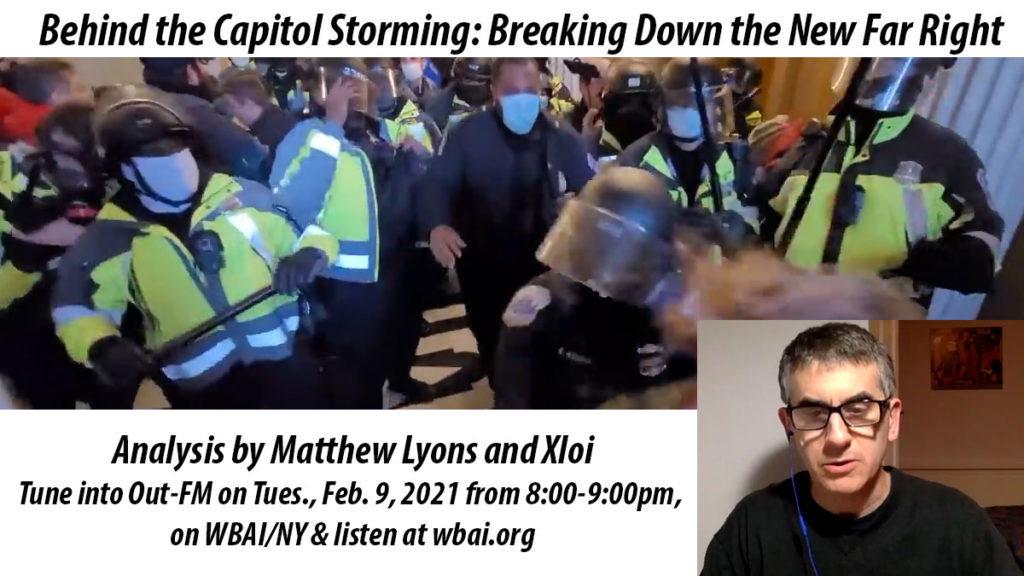 You can listen to the episode archived here.
The Trump zealots who stormed the Capitol building on January 6th, leading to at least 5 deaths, were part of a growing far-right movement.
Tune into this interview by Out-FM's Bob Lederer with two longtime writers for the blog ThreeWay Fight (http://threewayfight.blogspot.com/) who have closely studied the far right, Matthew Lyons and Xloi.
They'll break down the far right's conflicting factions, including racists, misogynists, homophobes, and transphobes, including the important role of Christian theocrats.
Matthew, author of the book Insurgent Supremacists: The U.S. Far Right's Challenge to State and Empire, will expand on his recent observation that "a huge chunk of the U.S. population has suddenly shifted, at least temporarily, from system-loyal politics to oppositional politics. The size of the U.S. far right…has increased by an order of magnitude."
Matthew and Xloi will also discuss the growing sector that claims to be "color-blind" and even includes some token people of color, while still espousing a clear politics of white domination.
They will also explain why progressives must oppose the growing mainstream call for legislation against domestic terrorism — even echoed by some on the Left. Xloi has written: "Lawmakers are already using the events at the Capitol to introduce legislation to increase police presence at protests and adopt measures to further criminalize all dissent. What is this political amnesia that we have? Within a moment, the momentum and political consciousness gained after years of anti-police struggles that culminated in the mass movements against the murder of George Floyd seemingly went in reverse."
Plus much more…
John Riley was co-producer and key co-planner of the interview, as well as program engineer.
Matthew Lyons has been writing about right-wing politics for over 25 years. He is the author of Insurgent Supremacists: The U.S. Far Right's Challenge to State and Empire (2018, Kersplebedeb and PM Press), co-author with Chip Berlet of Right-Wing Populism in America (2000, Guilford Press), and a regular contributor to the radical antifascist blog Three Way Fight. Matthew is a white, Jewish, cis, heterosexual man based in Pennsylvania.
Xloi does investigative reporting and analysis on the far right and other issues. She is also a contributor to the Three Way Fight. Xloi is a white jewish, cis, queer woman based in California.
Insurgent Supremacists Study Guide
Insurgent Supremacists: The U.S. Far Right's Challenge to State and Empire, by Matthew N. Lyons, now has a study guide. The section-by-section series of discussion questions is designed for use by study groups or solo readers. A PDF version is available for download here. If you haven't got a copy (or need more copies for a study group!) Insurgent Supremacists is discounted right now over at leftwingbooks.net
For a 60-second video about this program, which includes disturbing images of violence, go to https://www.wbai.org/upcoming-program/?id=2861, and scroll to the bottom.