Certain Days 2017 Call for Submissions: SUSTAINING MOVEMENTS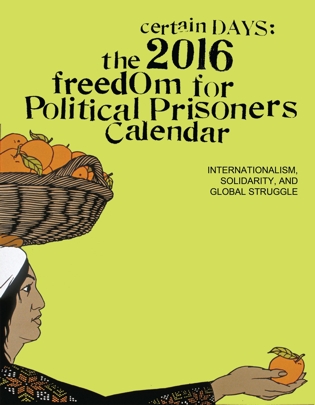 What: A call for art and article submissions on sustaining movements for the 2017 Certain Days: Freedom for Political Prisoners Calendar
Deadline: May 15, 2016
The Certain Days: Freedom for Political Prisoners Calendar collective (www.certaindays.org) is releasing its 16th calendar in the Fall of 2016. Over the years, we've turned our attention to various themes: grassroots organizing, resisting repression, and visions of justice. The theme for 2017 is focused on what it takes to sustain our movements.
We are looking for 12 works of art and 12 short articles to feature in the calendar, which hangs in more than 2,000 homes, workplaces, prison cells, and community spaces around the world.
We encourage contributors to submit both new and existing work.
THEME GUIDELINES
Social justice movements face formidable challenges, from state repression to internal conflict to organizer burnout. Yet there are movements that manage to thrive and grow over time, welcoming new participants and contributing to ongoing struggles.
What do these sustained movements have in common? What does it take to keep on keepin' on, over many years and hurdles? What groups can we look to and learn from as we try to find ways to strengthen our work? What lessons can we draw from liberation movement history? How can we envision our work spanning several generations?
Artists – is there a visual way to represent sustained struggles over time? What visual images from movement history prompt us to engage with these questions? (Both new and archival works are welcome).
As one of our editors Herman Bell writes, "[We need to] review the way we, the progressive community, do our business: In other words, review how we organize, how we elicit support from other groups in support of our particular issue(s); what do we say to them, how do we foster stronger support from them and they from us."
We welcome both artwork and articles that explore this theme.
We encourage submissions from prisoners – please forward to any prison-based artists and writers.
FORMAT GUIDELINES
ARTICLES:
1. 500-600 words max. If you submit a longer piece, we will have to edit for length.
2. Please include a suggested title.
ART:
1. The calendar is 11" tall by 8.5" wide, so art with a 'portrait' orientation is preferred. Some
pieces may be printed with a border, so it need not fit those dimensions exactly.
2. We are interested in a diversity of media (paintings, drawings, photographs, prints, computer-designed graphics, collage, etc).
3. The calendar is printed in colour and we prefer colour images.
SUBMISSION GUIDELINES
1. Send your submissions by May 15, 2016 to info@certaindays.org.
2. ARTISTS: Please send images smaller than 10 MB. You can send a low-res file as a submission, but if your piece is chosen, we will need a high-res version of it to print (at least 300 dpi preferably 600).
3. You may send as many submissions as you like.
Chosen artists and authors will receive a free copy of the calendar and promotional postcards.
Because the calendar is a fundraiser, we cannot offer money to contributors.
ABOUT THE CALENDAR
The Certain Days: Freedom for Political Prisoners Calendar is a joint fundraising and educational project between outside organizers in Montreal, Toronto, and New York, in partnership with three political prisoners being held in maximum-security prisons in New York State: David Gilbert, Robert Seth Hayes and Herman Bell. We are committed to doing work grounded in an anti-imperialist and anti-racist perspective. We work in solidarity with anti-colonial struggles, Political Prisoners and the rights of undocumented citizens and migrants. We are queer- and trans- liberationist. We raise awareness of Political Prisoners and Prisoners of War in the United States and abroad, many of whom are now in their fourth decade of imprisonment. People on the streets should understand the history of today's social justice movements and how that history is linked to solidarity for PPs/POWs. In addition to building that historical awareness, we emphasize the ongoing involvement and continued commitment of PPs/POWs in these same movements.
Proceeds from the calendar will be used for direct support work for Political Prisoners and anti-colonialist and anti-imperialist struggles in the U.S. and Canada.
reposted from: http://www.certaindays.org/?q=callout