Ctrl-Alt-Delete: An Antifascist Report on the Alternative Right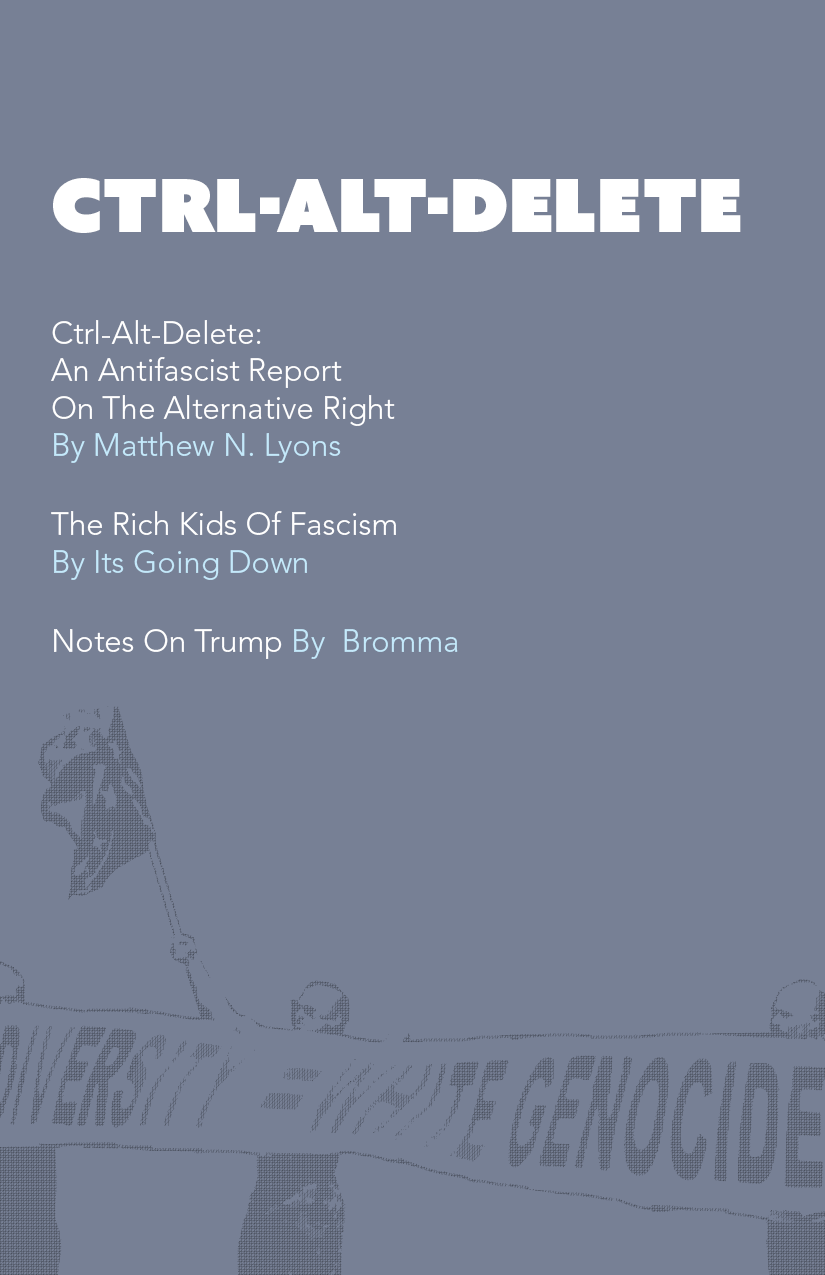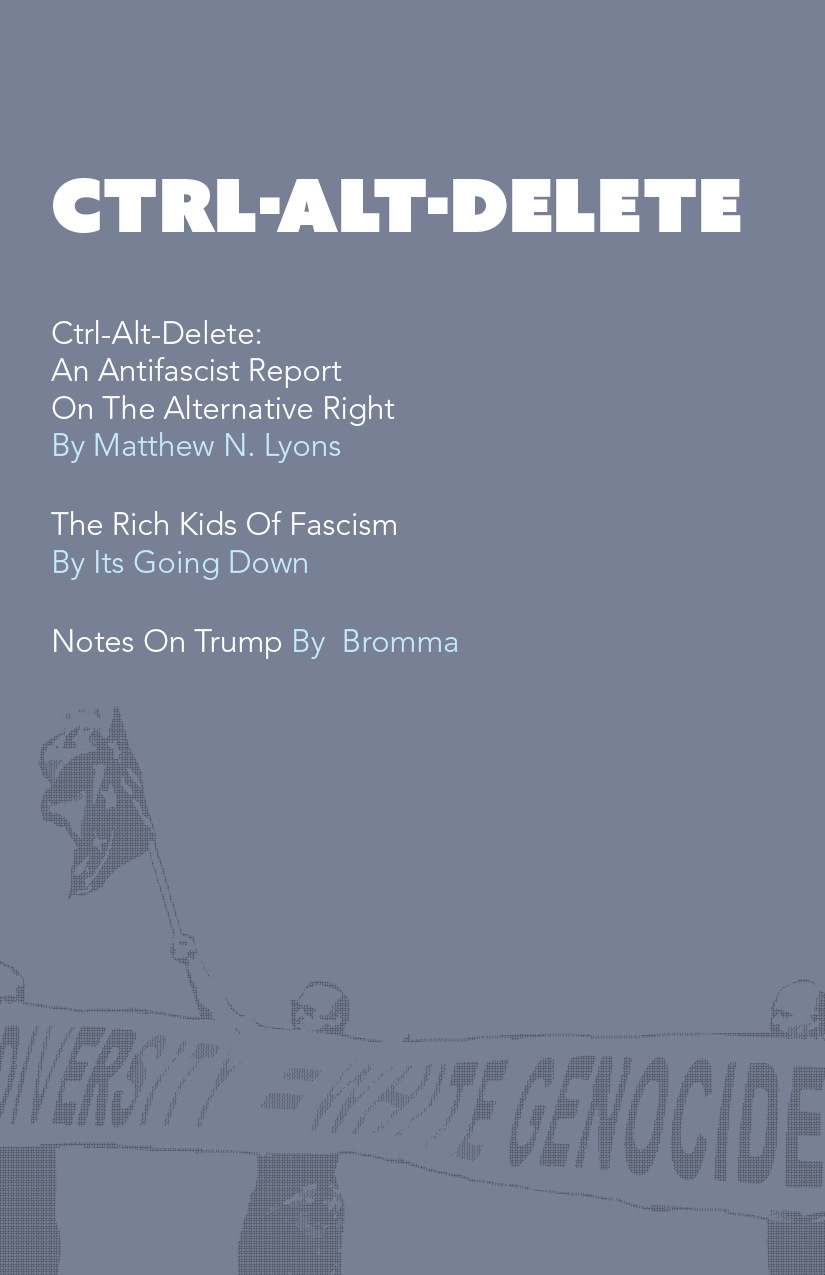 The latest from Kersplebedeb Publishing, Ctrl-Alt-Delete addresses the origins and rise of the so-called "alt-right," the fascistic movement that grabbed headlines in the months leading up to the 2016 election of Donald Trump as president of the United States. It is due back from the printers in February, but is available for pre-order now; the
cover price is $10, but bulk pricing ranges from $4-6 each depending on quantity. Pre-ordering copies will help us have a sense of how many we should be printing, and will also help us cover our printing costs. You can do so by clicking here!)
The title essay, Matthew Lyons's "Ctrl-Alt-Delete," is a thorough survey of the origins of the alt-right, a look at its constituent parts and beliefs at the present time, as well as observations about how its future relationship with the Trump administration may play out. Of particular interest, Lyons draws attention to the importance of sexism and misogyny within this movement, to its long-term "metapolitical" strategy, as well as to the tensions between the disparate groups that have found their home under its banner.
Lyons's essay was already in the works prior to the developments of 2016, part of a broader study of anti-systemic far right movements in the United States. That book, Insurgent Supremacists, is due out from Kersplebedeb and PM Press in 2018. Given the rapid developments of the past few months, however, it was felt important to make his chapter on the alt-right available as soon as possible – therein lies the origin of this publication.
Supplementing "Ctrl-Alt-Delete" is an essay written by comrades from the Its Going Down website, "The Rich Kids of Fascism."  This is a view from activists currently involved in opposing both the far right and the state, on the streets. As its title would imply, "Rich Kids" focuses on the elitist class politics of the alt right, and how that sets it apart from other far right phenomenon like boneheads or militias. Looking at the alt-right's fortunes over the past few years, IGD show the role played by both the media, and white racist fears about the ongoing struggles of Black people and immigrants, in feeding this threat.
An appendix, "Notes on Trump," by Bromma (also available on the Kersplebedeb website), serves not so much as a counterpoint, as a contextualization. Not directly addressing the alt-right itself, Bromma's Notes posit that the election of Trump and the rise of the far right are not simple accidents of history, nor the result of some single failure on our side or success on theirs, but are conjoined expressions of a deep shift within the world economy. As he argues, "What's coming into view, semi-hidden underneath the frenzied soap opera of reactionary populism, is that the tide of globalization has crested and started to recede."
The alt right in one expression of this reactionary moment. We must oppose them, but also prepare ourselves to oppose what might come next. Understanding one's enemy can only help in this regard, and indeed a thorough understanding of an opposing political force can also help us prepare for future far right iterations.
That is why this book is being offered now. A tool for work that needs doing. Let's get started.