Expozine 2018, Nov. 24-25 in Montreal!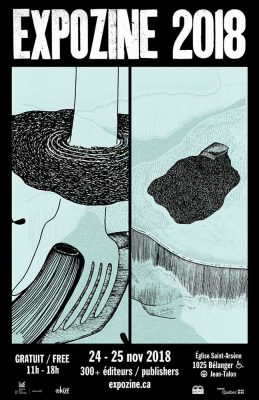 Free Admission!
WHEN:  November 24-25, 11 am – 6 pm.
WHERE:  1025 Bélanger (Église Saint-Arsène), Jean-Talon métro
FACEBOOK: https://www.facebook.com/events/2095604614086524/
WEBSITE: https://expozine.ca/en/
The largest bilingual small press fair in North America returns with a vengeance in a new larger accessible space right next to Jean-Talon métro!
With nearly 300 publishers and self-publishing authors and artists taking part, it's the place to discover unique and rare publications of all kinds: literary, poetic, artistic, political and uncategorizable! Expozine is a super diverse and dynamic book fair that immerses its thousands of visitors each year deep in a thriving new culture of the printed page. Explore countless new novels, zines, magazines, essays, comics, graphic novels and art publications from across the continent and abroad.
*******************************************************************************************
Gratuit! La plus grande foire annuelle bilingue de petits éditeurs en Amérique du Nord est de retour en force dans une nouvelle salle, plus spacieuse et accessible, à deux pas du métro Jean-Talon.
Plus de 300 éditeurs, auteurs et artistes auto-publiés d'ici et d'ailleurs vous attendent!
Venez dénicher des livres rares en tous genres, des objets littéraires subversifs, artistiques, poétiques ou politiques qui vous bouleverseront. Expozine est un marché du livre diversifié et bouillonnant qui témoigne d'une culture en plein essor et qui accueille des milliers de visiteurs chaque année.
Que vous soyez en quête de romans inédits, de recueils, d'essais, de fanzines, de revues, de bande dessinée ou d'objets d'art imprimé, vous y trouverez certainement votre compte.
Pour plus d'information – for more information :
expozine.ca
expozine@arcmtl.org
Expozine est organisé par ARCMTL, arcmtl.org , et est rendu possible en partie grâce au soutien du Conseil des arts de Montréal et SODEC.
Graphique par Stéphanie St-Jean Aubre.