Fanzine sobre vacunas contra COVID 19 // Zine about COVID 19 vaccines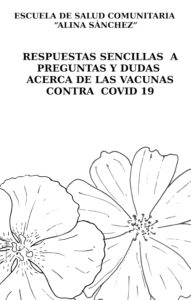 Queridxs compas,
Ante los temores que existen respecto a las vacunas contra COVID 19, las dudas y preguntas múltiples, desde la Escuela de Salud Comunitaria Alina Sánchez, preparamos como esfuerzo colectivo este fanzine para hacer más accesible información concreta y actualizada con la esperanza de ayudar a
nuestrxs compas y comunidades a poder tomar decisiones más informadas sobre su salud.
http://kersplebedeb.com/wp-content/uploads/2021/03/Fanzine-vacunas.pdf.pdf
Dear friends,
We put together this zine in Mexico in light of the multiple questions, doubts and fears around the COVID 19 vaccines. The zine was put together collectively in the Alina Sánchez Community Health School, in an effort to make information more accessible so that folks could make informed decisions about their health. It's in Spanish, but figured it may be of use to those of you who are doing community organizing with folks who speak Spanish.
http://kersplebedeb.com/wp-content/uploads/2021/03/Fanzine-vacunas.pdf.pdf