Fermeture du consulat américain à Montréal / Shut down US consulate in Montreal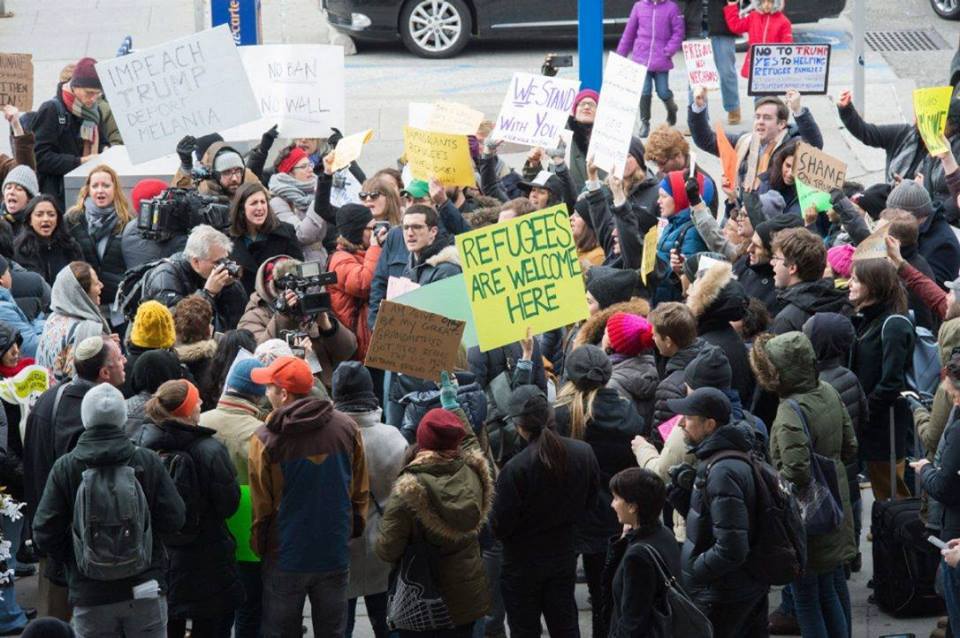 (le française suivra)
SHUT DOWN THE U.S. CONSULATE
WHEN: Monday January 30 at 12 PM noon
WHERE: 1155 Rue St-Alexandre, Montréal (metro Place-des-arts) in Montreal
FACEBOOK: https://www.facebook.com/events/1269237373168896/
Remember sitting in school learning about history, thinking "If I was alive then, I would have…"
You are alive now. What you do now is what you would have done then.

-Now Is the Time-
We live in horrific times. The United States, the most powerful country in the world, has embarked on a path of naked racism, celebrating cruelty and contempt for the world's poor and oppressed.
With his Muslim ban, his renewed aggression against the sovereign Indigenous nations resisting ecocide at Standing Rock, the global abortion gag order signed on his first day in office which condemns women and others to death throughout the Global South, and his proposed Great Wall of Hate, Donald Trump has made himself the champion of everything that is wrong in this world.
To many, it's a brand new nightmare. And that's a big part of why we are here today, outside the U.S. consulate, to make it clear that around the world, we're watching and we don't intend to accept these atrocities.
-Not Just Trump, Not Just Now-
Justin Trudeau is using the Trump horror-show to make a lot of nice sounding statements. Around the world, Canada is positioning itself as the "good guy" yet again. But being "better than Trump" is a pathetically low goal to aim for, and all the noise about Canadian generosity is really just that: empty noise.
As people who live within Canada's borders, we are here to denounce Trudeau's sugar-coated lies, just as we are here to denounce Trump's shameless white supremacism.
We need to remember that:
– Under the Safe Third Country agreement, asylum seekers travelling through or within the USA are denied claims in Canada. At one point, estimates were that over 40% of refugees trying to come to Canada were unable to make a claim as a result of the Safe Third Country Agreement.
– On the same day as Trump's executive order, Trudeau issued a notice ending the policy to sponsor Syrian and Iraqi refugees by Groups of Five and Community Sponsors, stating that the "quota" was full —a more "polite Canadian" way of spewing a similar racist exclusionary agenda.

– The Designated Countries of Origin (DCO) list means that those seeking refuge from the US and 40+ other countries are deemed to be "safe" – making it essentially impossible to seek asylum in Canada regardless of one's individual circumstances.

– Canadian immigration policies are themselves racist, sexist, ableist, and anti-poor. Hundreds of people languish in Canada's immigration detention centers. Every day dozens of people are deported from here. People with disabilities or illnesses, without money, or with criminal records are all routinely turned away at Canada's borders.
We demand:
– An immediate opening of the Canadian-USA border to everyone seeking to flee the catastrophe unfolding;
– An immediate cancellation of the Safe 3rd Country Agreement with the USA and the Designated Countries of Origin list;
– The implementation of an ongoing, comprehensive and inclusive regularization program for the more than 500,000 undocumented people already living in Canada;

– Establishing Montreal as a Solidarity/Sanctuary City, open to all migrants, with funding for access to services including health care, housing and education.

War, super-exploitation, climate chaos, and genocide are forcing millions to leave their homes, to flee for their lives. Countries like Canada and the United States are responsible for this global misery. This is where the drones are sent from. This is where the mining companies bring their stolen profits back to. This is where the bombs get made. This is where the warlords get their orders from and store their cash.

That's why we're going to be organizing to shut them down wherever we can, including here in Canada. We will support those fleeing and those who stay. We will do what we can against the nightmares of racism, xenophobia, and jingoism.
*****************************************
FERMETURE DU CONSULAT AMÉRICAIN
Lundi le 30 janvier, 2017 à 12h
1155 Rue St-Alexandre, Montréal (métro Place-des-arts)
FACEBOOK: https://www.facebook.com/events/1269237373168896/
Quand tu étais à l'école dans tes cours d'histoires, tu te rappelles t'être dit : « Si j'avais vécu à cette époque, j'aurais fait…. ». Tu vis aujourd'hui et ce que tu fais maintenant, c'est ce que tu aurais fait avant.
-Maintenant, c'est le temps!-
Nous vivons à une époque horrible. Les États-Unis, le pays le plus puissant au monde, a pris le chemin du racisme mis à nu, en célébrant la cruauté et le mépris envers les pauvres et les opprimé.es de ce monde.

Avec le décret contre les musulman.es, l'agression renouvelée contre les peuples autochtones souverains qui résistent l'écocide à Standing Rock, la mesure anti-avortement condamnant à mort les femmes des pays du Sud adoptée dans les premiers jours de son mandat ainsi que son Mur de la haine, Donald Trump est devenu l'emblème de tout ce qui va mal sur la planète.
-Pas juste Trump, et pas seulement maintenant!-
Justin Trudeau utilise le film d'horreur joué par Trump pour faire des déclarations empathiques. À travers le monde, le Canada est en train de se positionner comme « le bon gars » encore une autre fois. Mais être « mieux que Trump » est un objectif pathétiquement bas à viser et les discours vides de Trudeau sur la générosité canadienne ne sont que du bruit à nos oreilles.
En tant que personnes vivant à l'intérieur des frontières canadiennes, nous sommes ici pour dénoncer les mensonges déguisés de Trudeau, tout comme nous sommes ici pour dénoncer l'utilisation éhontée de l'idéologie suprématiste blanche de Trump.
Rappelons que :
– D'après l'Entente sur les tiers pays sûrs, les demandeurs d'asile voyageant par ou à l'intérieur des États-Unis se voient refuser leurs demandes au Canada. Des estimations évaluent que plus de 40% des refugié.es cherchant à venir au Canada ont été incapables de faire leur demande à cause de l'Entente sur les pays tiers.
– La même journée que le décret de Trump, Trudeau émettait un avis sur la fin de la politique de parrainage des réfugié.es de Syrie et d'Iraq par groupes de 5 ou des répondants communautaires, arguant que les quotas avaient été remplis – une façon plus polie à la Canadienne pour justifier un agenda d'exclusion raciale similaire à celui de Trump.
– La Liste des pays d'origine désignés, qui sous-entend que les personnes demandant refuge qui proviennent des États-Unis ou d'un de la quarantaine de pays identifiés comme « sûrs », signifie dans les faits qu'il est pratiquement impossible de demander l'asile au Canada peu importe les circonstances individuelles de la personne.
– Les politiques d'immigration canadiennes sont en elles-mêmes racistes, sexistes, capacitistes et anti-pauvres. Des centaines de personnes languissent dans les centres de détention pour immigrant.es du Canada. Chaque jour, des douzaines de personnes sont déportées d'ici. Des gens avec des handicaps ou des maladies, sans argent ou encore avec un dossier criminel sont régulièrement reflués aux frontières canadiennes.
Nous demandons :
– L'ouverture immédiate de la frontière Canada-États-Unis à toute personne cherchant à fuir la catastrophe qui voit le jour en ce moment;
– L'annulation immédiate de l'Entente sur les tiers pays sûrs et la Liste des pays d'origine désignés;
– L'établissement d'un programme de régularisation continu, complet et inclusif pour les 500 000 et + de personnes sans documents vivant déjà au Canada;
– La déclaration de Montréal comme une ville solidaire et sanctuaire, ouverte à toutes les personnes migrantes et fournissant un financement pour accéder aux services tels que les soins de santé, le logement et l'éducation.
La guerre, la surexploitation, le chaos climatique, l'écocide et le génocide forcent des millions de personnes à quitter leur maison et à fuir pour sauver leur vie. Des pays comme le Canada et les États-Unis sont responsables de cette misère globale. C'est d'ici que les drones partent. C'est ici que les compagnies minières rapatrient leurs profits volés des ressources du Sud. C'est ici que les bombes sont faites. C'est ici que les seigneurs de guerre reçoivent leurs directives et entreposent leurs richesses.
C'est pourquoi nous allons nous organiser pour les perturber et les faire fermer partout où nous pouvons, incluant ici au Canada. En appui à ceux et celles qui fuient et qui restent. Pour faire ce que nous pouvons contre ces cauchemars racistes, xénophobes et chauvinistes.
——————