Forum of reflection and organization for the support (of the struggles) of prisoners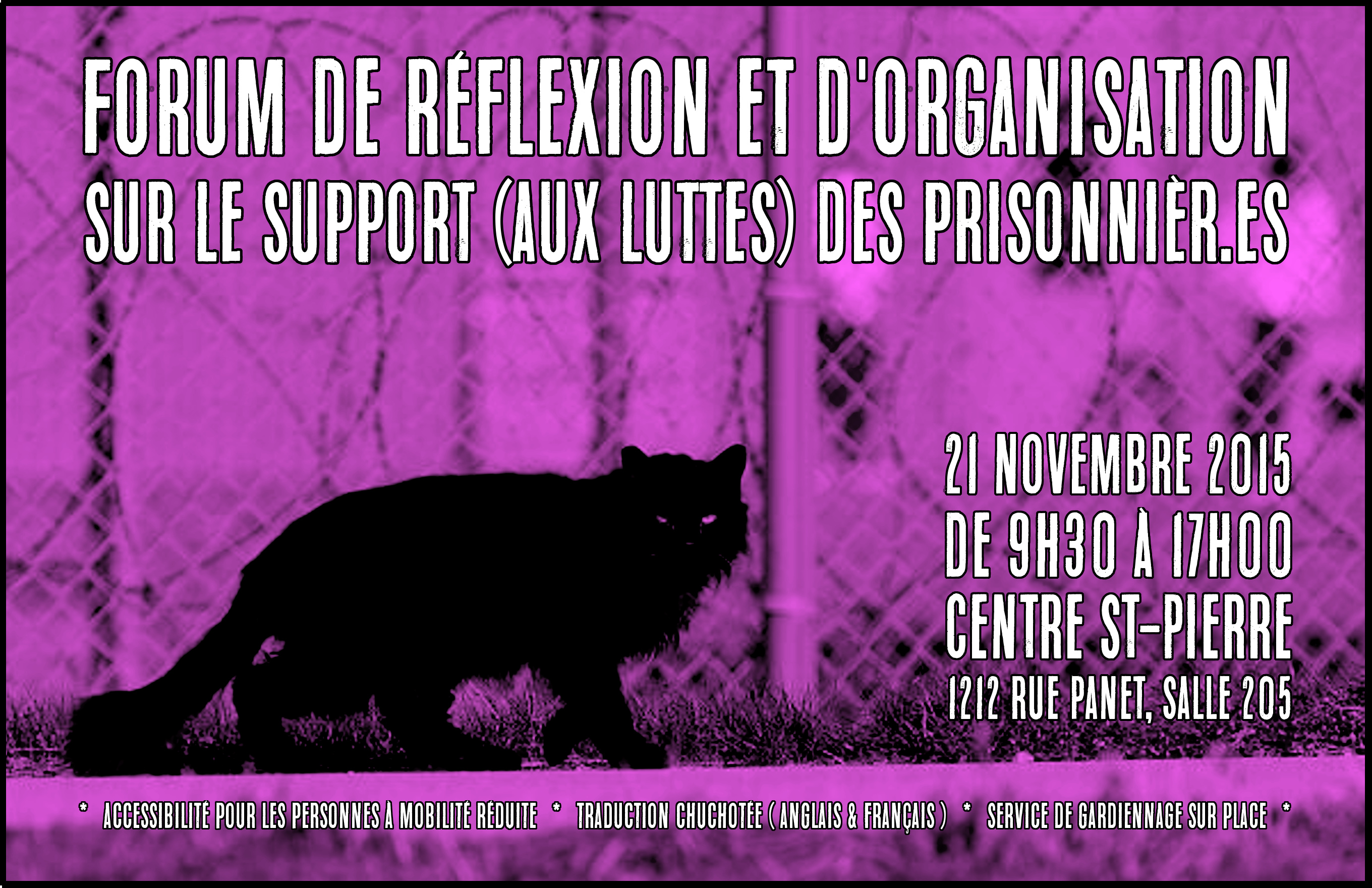 Montreal: Forum in Support of Prisoners(' Struggles)
November 21st, 9:30 am-5pm, Centre St-Pierre (1212 Panet st), room 205
———————————————————–(french will follow)
With a reenergized enthusiasm, you are invited to Forum of reflection and organization for the support (of the struggles) of prisoners.
November 21st, 9:30 am-5pm, Centre St-Pierre (1212 Panet st), room 205
This forum wishes to reunite people working and/or reflecting on anti-prison struggles and prisoner support, with the goal of making an overview of the efforts in struggles and support going on, as much on the inside as the outside. In addition, this forum will allow the networking between existing groups, and the people motivated by these issues, as well as target the concrete needs and adopt the political strategies to tackle them. The ultimate goal of this forum is to create the basis of a struggle and prisoner support collective.
We are people who have been incarcerated and/or support incarcerated people. The project originates from the request of a prisoner who wants to fight against austerity and the particular repercussions it has on prisons' life conditions. We hope that our collective collaboration during this forum will light a fire in the ditch that separates militant anglophone and francophone activists, as well as militants and people incarcerated or facing criminalization. This opportunity will allow us to deepen our capacity to act as a community of solidarity!
Looking forward to meeting with all of you,
PS: Below is an overview of the day's proposed schedule and information about accessibility.
PS2: You are invited to not use social media to pass along this invitation. Propagate information in your milieus via your email lists, in written form or verbally. For these reasons we invite you to note the event in your agendas, as Facebook and other social medias won't remind you! 🙂
———————–
An overview of the day's schedule:
Accessibility:
access ramp present
whispered translation from french to english + english to french
childcare on location
9:30: Welcome, coffee, tea, fruits
10:00: Words of welcome, brief presentation by different groups engaged in anti-prison struggle and support. (5-10 minutes per group)
10:30 : Discussion in smaller groups on the struggles/ practices/ possibilities of resistance related to the intersections of the prison industrial complex *anti- colonialism / feminisms/ classism / racism/ gender/ sexuality / and others* thematics will be decided during the forum according to the participants' political desires!
11:30 : Return to the larger group and sharing of results
12:30: Vegan lunch
1:30 The plans' follow-up
– discussion of strategies and angles of struggles to promote + political orientations to prioritize
– campaigns to put into action
3:00: Break
3:15: The plans' follow up (cont'd)
-Mandate of the support committee for (the struggles) of incarcerated people.
5:00: Goodbye speeches (and see you laters)
———————————————————————-
Avec un enthousiasme maintenant révélé, vous êtes invité.es au Forum de réflexion et d'organisation sur le support (aux luttes) des prisonnièr.es!
21 Novembre, 9:30am-5pm, Centre St-Pierre (1212 rue Panet), salle 205
Ce forum souhaite réunir les personnes travaillant et/ou réfléchissant sur les luttes anti-carcérales et sur le soutien aux personnes incarcérées, dans le but de faire un état des lieux sur les luttes et le soutien qui s'organisent à l'intérieur comme à l'extérieur. Davantage, ce forum permettra de réseauter entre les groupes existants et les personnes motivées par ces enjeux, ainsi que de cibler des besoins concrets et les stratégies politiques à entreprendre pour les aborder. Le but ultime de ce forum est de créer les bases d'un collectif de lutte et de support aux prisonnièr.es.
Nous sommes des personnes ayant été incarcérées et/ou ayant soutenu des personnes incarcérées. Le projet prend présentement origine dans la demande d'une prisonnière qui souhaite lutter contre l'austérité et ses répercussions particulières sur les conditions de vie dans les prisons.
Nous espérons que notre collaboration collective lors de ce forum saura mettre feu au fossé qui sépare les militant.es anglophones et francophones, ainsi que les militant.es et personnes ayant été incarcérées ou faisant face à la judiciarisation. Que cette opportunité nous permette de renforcer notre capacité d'agir en tant que communauté solidaire!
Au plaisir de s'y rencontrer,
PS : Ci-bas se trouve un aperçu du déroulement de la journée et des indications sur l'accessibilité.
PS2 : Vous êtes invité.es à ne pas utiliser les médias sociaux pour passer le mot. Propagez l'information dans vos milieux par vos listes de courriel, par papier ou vive voix! Pour cette même raison, on vous invite à noter l'événement dans vos agendas, car facebook et autres médias sociaux ne vous le rappelleront pas! 🙂
***
Voici un aperçu du déroulement de la journée :
Accessibilité :
présence d'une rampe d'accès
traduction chuchotée du français vers l'anglais + de l'anglais vers le français
gardiennage sur place
9h30 : Accueil, Café, Thé, Fruits
10h00 : Mot de bienvenue + brève présentation par différents groupes engagés dans les luttes anti-carcérales et de support. (5-10 min par groupe)
10h30 : Discussions en sous-groupes sur les luttes/pratiques/possibilités de résistances en lien avec les intersections au complexe carcéral
* anticolonialisme / féminismes / classisme / racisme / genres / sexualités / ou autres.
* les thèmes seront choisis selon les désirs politiques des participant.es lors du forum !
11h30 : Retour en grand groupe et partage des résultats
12h30 : Dîner vegan
13h30 : La suite des choses
-Discussions sur les stratégies et angles de lutte à promouvoir, les
orientations politiques à favoriser.
-Campagnes à mettre sur pied
15h00 : Pause
15h15 : La suite des choses (suite)
-Mandats du comité de soutien aux (luttes des) personnes incarcérées.
17h00 : Mot d'au revoir (et d'à bientôt!)