Freedom for Political Prisoners and the Fight Against Imperialism and White Supremacy: A Certain Days Calendar Launch with Matt Meyer and Friends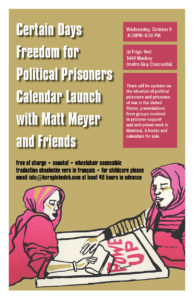 WHEN: Wednesday October 9, 6:30-8:30pm
WHERE: 1440 Rue Mackay (Le Frigo Vert), metro Guy Concordia
Now in its 19th year of publication, the Certain Days: Freedom for Political Prisoners Calendar is required reading for radicals, leftists,and all who support political prisoners and advocate the end of mass incarceration. The Certain Days calendar is filled with radical historical dates, and 12 thought-provoking articles and beautiful artwork each month throughout the year.
For the launch of the 2020 Calendar, with the theme "Knitting Together the Struggles", we will be joined by author and organizer Matt Meyer, who will discuss the pervasive contexts of whiteness and patriarchy in sabotaging our efforts to resist and fight back.
There will also be updates on the current situation of various political prisoners and prisoners of war in the United States, presentations from various groups involved in prisoner-support and anti-prison work in Montreal, as well as books and calendars for sale.
Matt Meyer is the current Secretary General of the International Peace Research Association. He is the author of White Lives Matter Most: And Other "Little" White Lies (PM Press, 2018) and an editor of Let Freedom Ring: A Collection of Documents from the Movements to Free U.S. Political Prisoners, We Have Not Been Moved: Resisting Racism and Militarism in 21st Century America, Look for Me in the Whirlwind: From the Panther 21 to 21st-Century Revolutions, and A Soldier's Story: Revolutionary Writings by a New Afrikan Anarchist.
There will be snacks!
This event is free of charge!
Traduction chuchoté vers le français
If you require childcare, please contact us at least 48 hours in advance at info@kersplebedeb.com
This event is being held at Frigo Vert, a wheelchair accessible space; for more information about accessibilty please email yesfrigo@gmail.com