Halifax Double Book Launch: LUMPEN (Ed Mead) and ESCAPING THE PRISM (Jalil Muntaqim)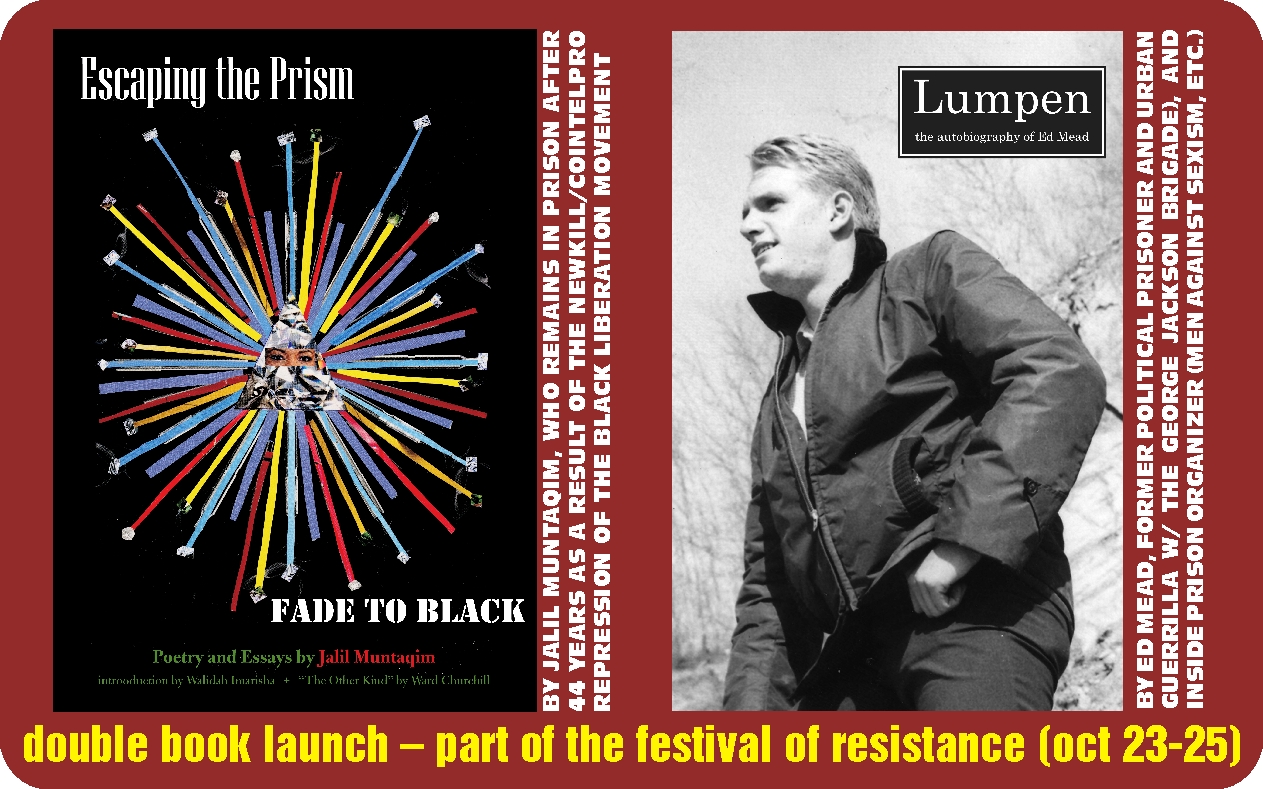 WHEN: Saturday, October 24at 7:00pm
WHERE: Plan B Halifax, 2180 Gottingen Street, Halifax, Nova Scotia B3K 3B2
facebook: https://www.facebook.com/events/624566001016376/
Comrades in Halifax, Nova Scotia, have organized the first joint book launch for Lumpen: The Autobiography of Ed Mead and Escaping the Prism … Fade to Black by Jalil Muntaqim. Ed Mead will be joining via Skype, and they will be showing the documentary short about Black Liberation Army political prisoner Jalil Muntaqim to mark the release of Ed and Jalil's books by Kersplebedeb.
ABOUT LUMPEN: THE AUTOBIOGRAPHY OF ED MEAD
More than a memoir, Lumpen: The Autobiography of Ed Mead takes the reader on a tour of America's underbelly. From Iowa to Compton to Venice Beach to Fairbanks, Alaska, Mead introduces you to poor America just trying to get by—and barely making it. When a thirteen-year-old Mead ends up in the Utah State Industrial School, a prison for boys, it is the first step in a story of oppression and revolt that will ultimately lead to the foundation of the George Jackson Brigade, a Seattle-based urban guerrilla group, and to Mead's re-incarceration as a fully engaged revolutionary, well-placed and prepared to take on both his captors and the predators amongst his fellow prisoners.
Through his work organizing against conditions in solitary confinement, and then with queer prisoners in the legendary Men Against Sexism, followed by his exile from Washington to the dungeons at Marion, Brushy Mountain, and Florence, Ed Mead's practice stands as a rebuke to the inhumanity and indifference which surround the world's largest prison system.
ABOUT ESCAPING THE PRISM … FADE TO BLACK
Jalil Muntaqim is a former member of the Black Panther Party and the Black Liberation Army. For over forty years, Jalil has been a political prisoner, and one of the New York Three (NY3), in retaliation for his political activism.
Escaping the Prism … Fade to Black is a collection of Jalil's poetry and essays, written from behind the bars of Attica prison. Combining the personal and the political, these texts afford readers with a rare opportunity to get to know a man who has spent most of his life — over forty years –- behind bars for his involvement in the Black Liberation Movement of the 1960s and early 1970s.
As Walidah Imarisha states in her introduction, "This collection is not just about rebuke, but a commitment to living fully and loving completely. To exploring all aspects of humanity, all pieces that make up liberation … Escaping the Prism defies the attempts of the state to silence political prisoners, to disconnect them from those on the ground working to create change. In the context of the international Black Lives Matter movement, this roar for justice led by Black youth, Jalil's poetic voice, and the voices of all our political prisoners, are vitally necessary to continue the continuity of Black resistance."
more information: www.freejalil.com
This event is part of Anti-Fest, a weekend of events bring generously sponsored by The Radical Imagination Project.