Help Former Political Prisoner Barbara Curzi in Her Fight Against Cancer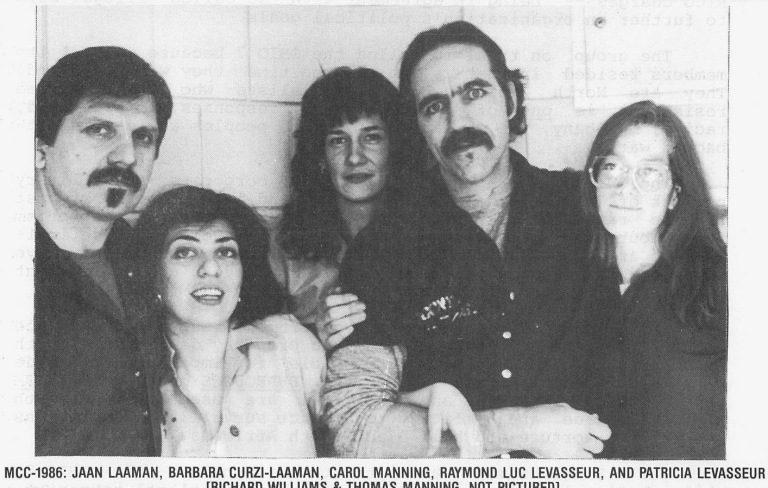 October 30, 2016
Dear Friends,
Carol Saucier, Ray Luc Levasseur and I write today to ask that you help our dear sister and former co-defendant, Barbara Curzi. Barbara is a former political prisoner, one of the Ohio 7, who, after their arrests in Ohio in 1984, went on trial for actions by the United Freedom Front against corporations who upheld apartheid in South Africa and contributed to the wars in Central America. (Please donate).
Unfortunately, Barbara was recently diagnosed with a very aggressive form of breast cancer. She is beginning an intensive six-month chemo regimen and then is expected to undergo surgery, possibly followed by radiation. Barbara lives in Greenfield, Massachusetts with her cats and dog and hopes she can keep her home while she fights this terrible disease. Barbara hasn't been well for a while most especially since she lost her beloved son, Ricky (whose father is political prisoner, Jaan Laaman) five years ago. The more health problems she had, the more she has struggled financially to keep a roof over her head and is now dangerously close to losing that.
She was about to get a part-time job just before her diagnosis,to supplement her disability check but now instead finds herself way behind not only on her mortgage and utilities, but can't get Internet and phones services back until she pays them off completely. Fortunately, the amount to keep her in her home and get her back to functioning, is not so insurmountable that we can't raise enough to at least take those worries away from her. Once caught up, Barbara would still need some support to keep up with her monthly expenses, while waging this battle. Her struggle will be compounded by additional expenses related to trying to get better, including travel and integrative treatments, among other things. Suffice to say that she is in dire straits and those of us who love and respect her, want to reach out to others who can chip in whatever they can to help alleviate her burdens.
Barbara served 7 years of a 15 year sentence she received after conviction in Brooklyn, New York for Conspiracy. She returned to Massachusetts after her release from the federal prison system to rebuild her life with her children. As many former prisoners, and especially political prisoners, Barbara has struggled to find work and survive, but she is still deeply committed to the struggle for justice.
If you would like to contribute to the effort to minimize the stress to survive for Barbara, and help her make it through this battle, please see the linked "Go Fund Me" page at: https://www.gofundme.com/barbaras-loving-circle-2w49vnqs
Barbara's daughters, Lucia and Nina Colombaro, have set up a "Lotsa Helping Hands" page to help organize care and comfort for Barbara, so if you think you can help with practical matters or would like to follow Barbara's progress, please see: mycancercircle.lotsahelpinghands.com/c/737929/
Donations received will go directly to Barbara to help alleviate her troubles. Please spread the word by sharing this email and contribute whatever you can. Thank you.
Love,
Pat (Rowbottom, formerly Levasseur)
Carol (Saucier, formerly Manning)
Ray Luc Levasseur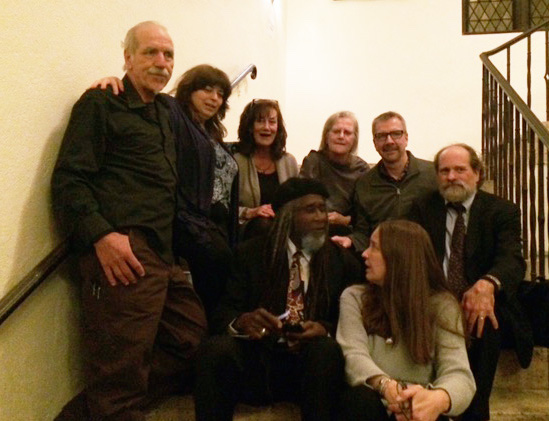 (l to r) Ray Luc Levasseur, Barbara Curzi, Carol Saucier, Pat Rowbottom,
Bob Boyle, Ken King, Sandy Simpson, Kazi Toure. From Liz Fink Memorial.
2016
*****
The above is reposted from Sacramento Prisoner Support