Hunger Strike at South Woods State Prison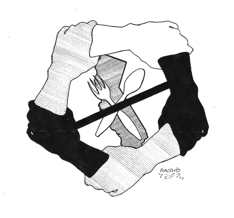 Kersplebedeb has received a letter from Shaka Zulu, Chairman of the New Afrikan Black Panther Party-Prison Chapter, informing us of a hunger strike at South Woods State Prison, where Shaka was transferred earlier this month.
The letter was written before the hunger strike, however was only received a week after the strike was to have begun. We do not know if the strike is ongoing, but whether it is or not, it is worth following through on the call for solidarity issued by Shaka Zulu, and calling the prisoncrats to support the prisoners demands.
The prisoners complaints are:
A. Bad sanitary conditions
B. No cloths for winter weather
C. Medical indifference
D. Lack of access to Hygiene products
E. Meals that are non-nutritious
F. [Lack of] access to educational pursuits
As Shaka wrote in his letter,
In all my years in prison in general and in the prison movement in particular, i did not have an inkling that New Jersey's Department of corrections lorded over an isolation unit outside of the one we know at Trenton State prison (the Management Control Unit). i suppose the folks out there will be surprised as well!!!
Again, come March 14, 2015, push them buttons on your cell phone and Internet. Dial:
609-292-0436 or 609-292-4036 (extension #5522)
609-530-2500 (Special Investigative Division)
609-633-2596 (ombudsman)
And demand that they enforce the 6 demands.
Shaka also asks that we contact the New Jersey Department of Corrections: (609) 292-4036 and by email at this web page on their site.