January 20, Buffalo: Looking at the US White Working Class Historically book release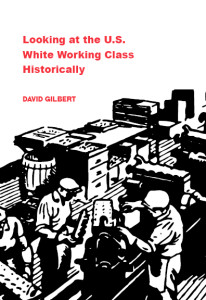 WHEN: 7pm, Saturday, January 20, 2017
WHERE: Burning Books, 420 Connecticut Street, Buffalo
facebook: https://www.facebook.com/events/285475215308257/
Can White People Be Organized Against Racism? A Multi-Racial and Multi-Generational Approach: Launch party for David Gilbert's Looking at the U.S. White Working Class Historically with Naomi Jaffe, co-founder of New York State Prisoner Justice Network and former member of the Weather Underground; Jerome Wright, Upstate Organizer for the Campaign for Alternatives to Solitary Confinement (CAIC) and founder of the MAN (Mentoring and Nurturing) Program; and Katie Schaffer, Statewide Organizer for JustLeadershipUSA and Leadership Team member of Showing Up for Racial Justice (SURJ)-NYC.
David Gilbert is a white U.S. political prisoner imprisoned since 1981 for his participation with members of the Black Liberation Army in an armed action. From prison, he has written three books and dozens of articles engaging in thoughtful dialogue with today's young activists on organizing movements of resistance and liberation under changing conditions.
Looking at the U.S. White Working Class Historically continues that dialogue, taking a hard look at white racism and exploring some possibilities for organizing to overturn it. Naomi, Jerome, and Katie will use the book as a stepping-stone to open a conversation from their varied experiences of multiracial and multi-generational organizing for justice.