Kevin Rashid Johnson — Transferred to Ohio and Facing Bogus Charges! [RashidMOD.com]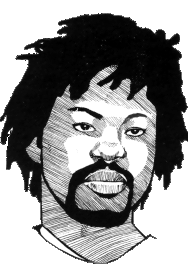 [Kevin "Rashid" Johnson has been imprisoned for over 30 years. His original conviction stemmed from lumpen activity, but he became a revolutionary New Afrikan early in his time inside. He is the author of Defying the Tomb (2010) and Panther Vision (2015), and the Minister of Defense for the Revolutionary Intercommunal Black Panther Party. This article was originally posted to Rashid's website on August 2, 2021.]
On July 12 Kevin "Rashid" Johnson was transferred from Wabash Valley prison in Indiana to the custody of the Ohio Department of Corrections, being brought directly to their intake center in Orient. He would remain there for less than three weeks before being sent to Lucasville prison on July 30th.
A founding member of the Revolutionary Intercommunal Black Panther Party Prison Chapter, having previously founded the New Afrikan Black Panther Party from which the RIBPP emerged following a split in 2020, Rashid is a longtime communist and prison organizer. His work over the years has garnered attention internationally, and he is the author of two books as well as an accomplished artist.
As he himself wrote about a few months ago, as a result of his work Rashid has been subjected to a particular form of political repression for nine years now now: interstate transfers to new jurisdictions whenever his organizing or litigation gets to be too much for a particular state's prison officials. (See "Interstate Prison Transfers as Weapons of Political Repression: My Nine Years in Domestic Exile" at https://rashidmod.com/?p=3039). Originally from Virginia, where he became politicized as a young man in prison in his 20s, he was subsequently transferred to Oregon, then Texas, then Florida, before ending up in Indiana in December 2018. In every prison system he has been held in, he has worked to expose the injustices he has encountered, from lack of adequate food and healthcare, to the violence and abuse of particular guards. His work has involved writing articles (found on his website rashidmod.com), working with other prisoners (not an easy feat, considering he is usually in some type of segregation/solitary), and litigation, both on his own behalf and also helping other prisoners to file suits.
Rashid's most recent transfer to Ohio is an example of this, it being an attempt to prevent him from responding in a case that he brought against the Indiana Department of Corrections regarding abuse in solitary confinement. The Department of Corrections in Indiana submitted false evidence in the case and Rashid was in the process of responding and having them sanctioned for that. They already had to pay over 150k for being found guilty of submitting false evidence in another case concerning a prisoner who later died. Rashid wrote about this case last year, in "Torment In Indiana Prisons: The Abuse, The Lawsuit, The Death Of Phillip Littler." (https://rashidmod.com/?p=2887)
Each transfer is disruptive. It can take a long time before Rashid received his property, which invariably includes legal materials and research materials for articles. Property he had access to in one jurisdiction is often denied or "lost" on its way to the next. There is also the disorientation and vulnerability that comes from new surrounds; little wonder that it has been shortly after such transfers that Rashid has previously been subjected to violence and charged with new bogus infractions.
Such is what is occurring now, following his transfer to Ohio after less than three years in Indiana.
On July 30, the day of his transfer to Lucasville, Rashid was brought up on disciplinary charges and was tried and found guilty, for allegedly threatening guards that he was going to send someone to kill them (as those of us who know him can attest, Rashid doesn't even talk like that!). This literally happened in the span of a few hours. As a result, he has received a 30-day restriction from using the phone and commissary, essentially cutting him off from the outside world and also preventing him from purchasing any basic necessities following his transfer.
The transfer from Indiana to Ohio, the unexpected move to Lucasville after spending only 2 weeks of what was supposed to be a 4-6 week stay at the Orient intake center, in addition to the brand new charges and 30-day restriction are all attempts to prevent Rashid from responding to the case in Indiana, either by phone or mail. The 30-day restriction means is that he will not be able to contact anyone on the outside by phone or email for 30 days. The commissary restriction is to prevent him from buying paper and pencil to write with and be able to respond to the court case.
As a result of his work against the abuses that run rampant throughout the prison system, once again Rashid has no property, no hygiene products, no paper or pen. Not even shoes to wear. We still don't know where his property is or the $400 that was on his trust account in Indiana. We are asking that calls be made to Virgina's Department of Corrections (as Rashid is still legally a Virginia prisoner, despite his transfers to all over the United States) and the warden at the Southern Ohio Correctional Facility at Lucasville and prison officials from Indiana, where he was transferred from. When communicating with prison staff in the different states, we need to refer to the prisoner i.d. # for Kevin Johnson (Rashid), which is different in each state.
For Virginia: #1007485
For Indiana: #264847
For Ohio: #A787991
Demands:
1. An end to the bogus 30-day restriction from phone and email.
2. An end to the bogus 30-day restriction from commissary that prevents Rashid from ordering stationary with which to write.
3. The immediate return of ALL his property including the $400 that was on his trust account there at WVCF and his legal property which will enable him to continue with his case against the IN Department of Corrections. If they tell you that his property has already been sent then we need to know on what date it was shipped and what facility received it.
PHONE NUMBERS AND EMAIL ADDRESSES TO CONTACT:
Joseph Walters, Dep. Director VADOC
joseph.walters@vadoc.virginia.gov
(Proxy for Harold W. Clarke, Director of the Department of Corrections)
(804)887-7982
James Park, Interstate Compact Administrator
James.park@vadoc.virginia.gov
Annette Chambers-Smith, Director of Ohio Depart of Rehabilitation and Corrections
please contact: Melissa Adkins (Executive Assistant)
via email: melissa.adkins@odrc.state.oh.us
614-752-1153.
Ronald Erdos, Southern Ohio Correctional Facility, Warden (Lucasville)
(740)259-5544
drc.socf@odrc.state.ohio.us
Charlene Burkett, Director DOC Ombudsman Bureau (Indiana)
(317) 234-3190
402 W. Washington St. Room W479
Indianapolis, IN 46204
Ombud@idoa.in.gov
Richard Brown, Warden
Wabash Valley Correctional Facility, Indiana
(812) 398-5050
To learn more about Rashid, check out his website at https://rashidmod.com/.