La Grande Foire du Livre et des Mouvements Sociaux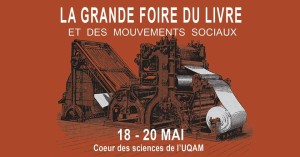 [FR/ENG] Dans le cadre de la conférence internationale de la Grande Transition, vous êtes conviés à La Grande Foire du Livre et des Mouvements Sociaux qui se tiendra dans le Cœur des sciences de l'UQÀM. / As part of the international conference The Great Transition, you are invited to The Great Book and Social Movement fair at the UQAM Coeur des Sciences.
Vendredi 18 mai / Friday May 18th
10:00 – 19:30
Samedi 19 mai / Saturday May 19th
9:30 – 19:30
Dimanche 20 mai / Sunday May 20th
9:30 – 16:00
Gratuit – Ouvert à tous.te.s! / Free – Open to everyone!
Venez rencontrer les exposants qui y tiendront des kiosques toute la fin de semaine / Come and meet the exhibitor all week end:
Éditeurs / Editors
Verso Books
Haymarket Books
HH Books
Pluto Press
PM Press
Black Rose Books
Sabotart
Lux Editeur
Éditions Écosociété
Éditions du remue-ménagee
Éditions libres du carré rouge
Kersplebedeb Publishing and Distribution
Fernwood Publishing
Revues et périodiques / Magazines and periodics
Revue Possibles
Revue Relations
Nouveaux Cahiers du socialisme
À Bâbord!
IRIS
L'Esprit libre
Ricochet – Français
Jacobin Magazine
Mouvements sociaux / Social movements
École d'innovation sociale Élisabeth-Bruyère
Réseau de résistance anti-G7 (RRAG7)
Convergence des luttes anticapitalistes
Ni Québec, ni Canada : projet anticolonial
Comité pour les droits humains en Amérique latine
Collectif Opposé à la Brutalité Policière (COBP)
Réseau Québécois Groupes Écologistes
Democratic Socialists of America
La Riposte socialiste
DIRA bibliothèque anarchiste
Réseau québécois de l'action communautaire autonome (RQ-ACA)
Red Wedge
Rosa-Luxemburg-Stiftung
Épicerie Le Détour du Bâtiment 7
Il s'agira d'un événement qui permettra de rendre accessible une vaste littérature en anglais et en français sur les thèmes de la conférence tout en agissant à titre de lieu de rencontre et de réseautage permanent. Ce sera l'occasion parfaite de faire le plein de littérature pour la saison estivale histoire d'alimenter les réflexions et les discussions collectives sur les luttes et enjeux sociaux !
/The fair will make accessible a vast array of French and English books related to the conference's themes. It will also be a permanent area to meet and network. This will be the perfect occasion to fill up with literature for the summer and feed our collective thoughts and discussions on social issues and struggles !
Au plaisir de vous y voir! / Hope to see you there!
UQAM – Cœur des sciences
Complexe des sciences Pierre-Dansereau
Pavillon Cœur des sciences ( CO-1750)
175, avenue du Président-Kennedy
Montréal (Québec) H2X 0A3
**
Pour plus d'informations sur les conférences de la Grande Transition sous les thèmes du féminisme, de l'écologie, des luttes sociales et anticapitalistes ainsi que des alternatives; ou sur une pluralité de panels connexes et plus encore, visitez https://thegreattransition.net/fr/accueil/.
Les inscriptions sont par ici: https://thegreattransition.net/fr/accueil/#section4
/For more informations on the conferences of The Great Transition under the themes of feminism, ecology, social and anticapitalist struggles as well as alternatives; or on the plurality of related panels and even more, visit https://thegreattransition.net/home/.
Register here : https://thegreattransition.net/fr/accueil/#section