Lancement du calendrier Certain Days Freedom for Political Prisoners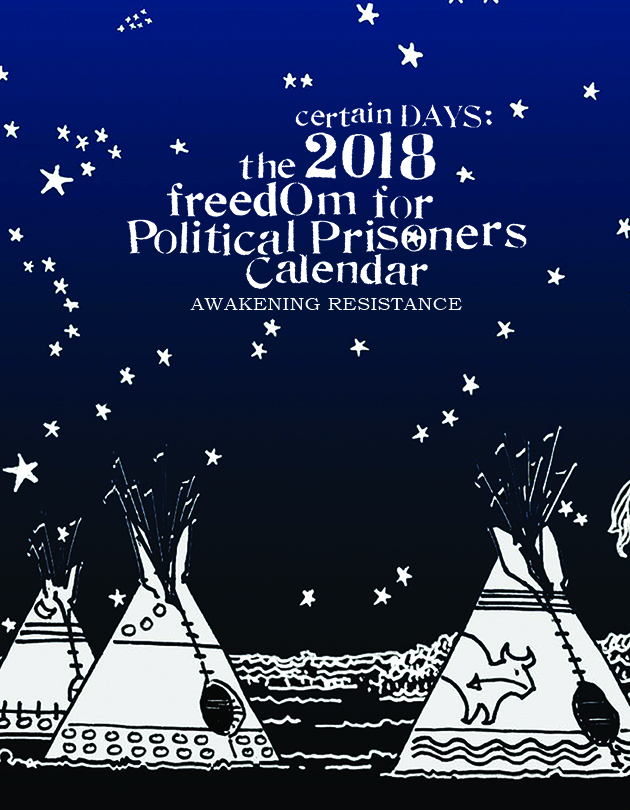 jeudi le 7 décembre de 17h30 à 19h30
à L'Euguélionne, librairie féministe
1426 Beaudry, Montreal, Quebec
facebook: https://www.facebook.com/events/136421840349229/
* This event will be in French, with whisper translation into English.
Please scroll down for English information*
On vous invitent au lancement montréalais du calendrier Certain Days Freedom for Political Prisoners 2018: Awakening Resistance
Le calendrier Certain Days est un projet conjoint de financement et d'éducation entre des militant.es de Montréal, Toronto, New York, et les prisonniers politiques David Gilbert, Robert Seth Hayes et Herman Bell, emprisonnés dans l'État de New York.
L'événement est gratuit. Des copies du calendrier seront vendus sur place au coût de 15$.
L'événement se déroulera en français, avec traduction chuchotée vers anglais.
Lieu accessible aux chaises roulantes plus d'info au http://librairieleuguelionne.com/a-propos/accessibilite/
Service de garde disponible sur place
Des collations seront servies
[english information]
Join us as we launch Certain Days Freedom for Political Prisoners Calendar 2018: Awakening Resistance
The Certain Days Calendar is a joint fundraising and educational project between outside organizers in Montreal, Toronto, and New York, in partnership with three political prisoners being held in maximum-security prisons in New York State: David Gilbert, Robert Seth Hayes and Herman Bell.
This event is free; copies of the Certain Days calendar available for $15.
This event will be in French, with whisper translation into English.
Space is wheelchair accessible, more info at: http://librairieleuguelionne.com/en/about/accessibility/
Childcare available on site
Snacks will be served