Losing My Religion (by André Moncourt)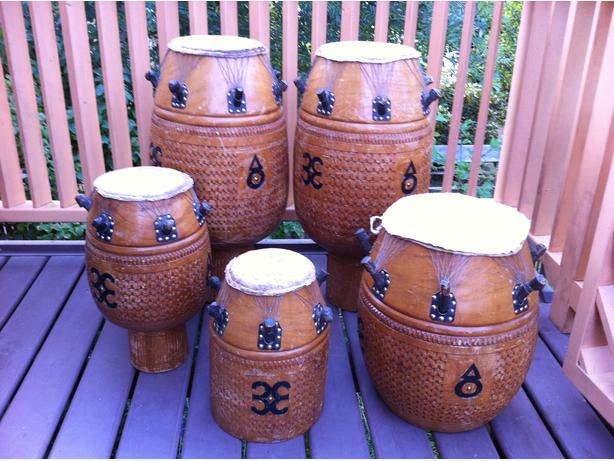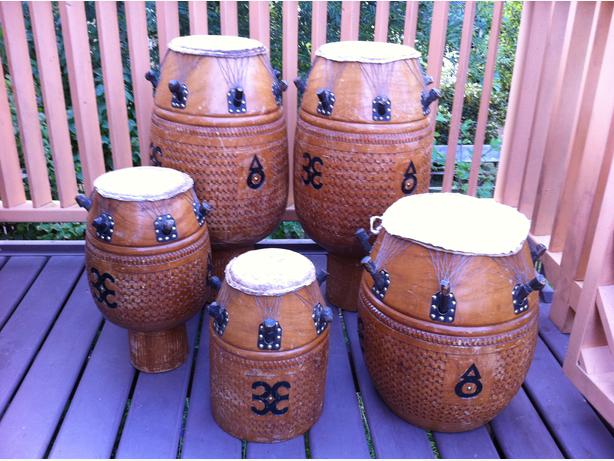 Recently one of those issues that arises constantly to tangle up leftists and liberals reared its head in my little world.  Some folks (all of European decent) in a band I know were in the studio and someone proposed using an aburukuwa, a Ghanian drum, I am told, to get just the right sound.  One of the young men in the band objected that that was "cultural appropriation."
Although people who use this term rarely take time to define it, I presume that the issue with cultural appropriation is the apparent commodification of an oppressed culture's artefacts to the advantage of an oppressor culture, or in layman's terms:  ripping off other people's shit – and maybe killing them in the process – for fun and profit. I personally consider the question of cultural appropriation to raise issues that are much messier and more complex than the young feller's simple (perhaps simplistic) statement suggests.  I sort of think of it as the next-door neighbour of political correctness:  not quite as pointlessly guilt-ridden and paralyzing, but not as straight forward as its proponents suggest.
We're talking about rock music here, so let's just pause for a moment to think.  Let's start with Elvis, who definitely didn't create rock 'n' roll, but who, nonetheless, is the single figure most likely to leap to mind when one thinks about the genre – which has to do with media propensity for oversimplification, but I digress.  Chuck Berry is fond of being pissed off about not getting his dues (in the form of cash) as the fountainhead of rock 'n' roll.  Bo Diddley probably has an argument on his side as well, and he's also got that real cool box-shaped guitar.  Me, personally I think the first rock 'n' roll song was Hot Tamales (They're Red Hot) by Robert Johnson – and if we're going to talk about appropriation and not getting your dues, I mean really, the man pretty much invented a genre that everyone and his/her dog has appropriated.
Anyway, back to Elvis.  Everyone knows Elvis stole black music.  Then, I think, well, what about the Sun Sessions? I mean, yeah, you can hear the impact of R&B, but you can also hear the impact of hillbilly music – some people might actually think that the idea of synthesizing those two styles and then spicing it with some this and that was actually pretty ingenious – apparently both Sammy Davis Jr. and James Brown thought the man rocked (as it were). ((http://www.elvis.com.au/presley/elvis-not-racist.shtml))  Fucking sellouts – who's black and proud now?
Of course, I also find myself wondering:  Would it have been a better world if Elvis had just stayed with the hillbilly music, rather than playing a role in creating a form of music that was one of the sparks for the youth revolt that became the mass uprising of the sixties? ((All of that, of course, raises and interesting question.  I've been in the Appalachian area, I've been in Harlem, I've been in Newfoundland, and the fact of the matter is that Harlem shares far more cultural points of reference, music included, with the poor Irish Catholic neighbourhood I grew up in than either Appalachia or Newfoundland.  So, does that mean that if I play music from Harlem, it's cultural appropriation, but if I play bluegrass or traditional Newfoundland music, it's not cultural appropriation because we're all white?  (Anyone who doesn't think that there is any exploitation and oppression of whites that could possibly parallel that suffered by non-whites in North America really ought to go to Appalachia.) ))  Let's see what John Trudell, former national chairman of the American Indian Movement, has to say about it in a song entitled Baby Boom Ché, (he sings in a form distinctly integrating aspects of white rock music and white beat poetry with traditional Native drumming):
The first wave rebelled,
I mean, we danced even if we didn't know how,
I mean Elvis made us move.
Instead of standing mute he raised our voice
And when we heard ourselves something was changing,
You know, like for the first time we made a collective decision
About choices. ((http://www.radical-musicology.org.uk/2008/elliottex1.pdf))
Fucking sellout!
Anyway, we all know how that ends:  Vegas gets Elvis, and a bunch of guys (mostly white) grow their hair long and learn how to make guitars feedback (I will ultimately lose a good deal of hearing listening to them do their various party tricks).  Rock is born in little shitholes in London and New York City and Hamburg and San Francisco … well, basically anywhere where there was a high concentration of European and Euro-American youth.  Now, we all know that these guys stole the blues – I mean the Rolling Stones (definitely the robber barons of the genre, as it were) named themselves after a Muddy Waters song.  My friend Phil says he advised them to adopt the name, but that's another story – and undoubtedly a lie.
This round of appropriation all gets a bit confusing.  For example, Hendrix was routinely criticized for playing "white man's music."  So, was Hendrix appropriating white man's music that had been appropriated from black folks – mostly men, actually – or was he re-appropriating black man's music?  Fucking sellout … maybe … I can't tell … I'm getting confused here …  What is the issue exactly?  Should everyone just make sure to never play anything that wasn't played by dead people of their own pigmentation?  That would be boring – not to mention the fact (which I'm clearly about to mention), that culture has always grown by cross-pollination. I mean, arguably the major restaurant option in London is Indian food – which is often actually Pakistani food, but let's keep things simple for the honkies.  Often, said Indian restaurants will curry up some local foodstuff that one wouldn't find in India – are we appropriating them, or are they appropriating us? (Editorial comment:  This raises an interesting question – Why is there a hierarchy in emphasis around these issues which parallels the hierarchy of senses as it were – visual art gets the most heavy critiques for appropriation, music and poetry next in line, food never gets criticized for it. Like who would ever want to give up all the spices and comfort flavours they like, based on some political checklist?)  Right you are – that is an interesting question.
Enough of Indian food – I find it too heavy for summer, in any case – and back to rock music.  Fatigued of the 317-minute guitar solo played at the speed of light with $82,000 worth of technological distortion and manipulation – here come the punks (a goodly number of them being bored middle class kids who appropriated "white trash" sensibilities as a political statement of sorts).  Now, you couldn't get a whiter music – well, not for the first year or so, in any event – then the Clash and the Slits and the Ruts… appropriated reggae music with the help of Adrian Sherwood.  Lo and behold, a genuine Jamaican Rastafarian named Mikey Dread soon gets involved – Did we appropriate him?  When Prince Far I, Mikey Dread and Bim Sherman – all Jamaicans – work with Adrian Sherwood, a white man, are they being appropriated?  I keep trying to find that fucking line.
Let's move onto hip hop, the music that improbably took over the world – what a clusterfuck.  From that point on it's an appropriation free for all.  Hip hop starts sampling white pop and rock hooks, white kids start rapping, rap metal is born, then trip hop … I mean, country stars like Brad Paisley are doing duets with people like LL Cool J – who's appropriating who?  They don't seem to care, so I guess I won't either.
Am I saying that appropriation from other cultures and peoples is a non-issue?  Not at all.  I live in Montréal, ergo I live on unceded (i.e., appropriated – and pretty fucking violently so) Mohawk land.  That in effect means that every moment of every day of my life is part of an ongoing act of criminal and genocidal appropriation.  That seems to me to be the kind of appropriation that should get people's panties in a bunch.  It is a source of a lot more human pain and suffering than beating on any drum could ever be – you can't just shy away like you saw the ghost of George Custer eating Tašú?ke Witkó's ((We stripped this man of his name and decided we'd call him Crazy Horse, effectively claiming the right to rename this man with a name that's easier for us to pronounce – sort of like calling Beethoven "beet patch.")) brain, you have to do something.
Back to cultural appropriation:  slowly I'm getting to my point – trust me (or don't, I don't really care).  Like the land we appropriated, what it is we ultimately appropriate is far more important than some drum most Europeans and Euro-Americans (oh, and those white folks down under) have never even heard of being played by a band they don't know.  What we routinely and as a matter of course appropriate is the surplus labour of the people of the Third World or the Global South or the Three Continents (whatever ideological formulation works for you – in the end they're all names for the same areas and the same process). Let me explain what I mean here.  Look down at your feet.  Those Nikes or Adidas or knockoffs you're wearing were assembled in a Third World sweatshop by people making a few dollars a sixteen-hour day, maybe in one of those factories with the nets around it to keep people from committing suicide to escape their jobs.  In short, we in the First World spend all day walking around on the appropriated sweat and blood or super-exploited people.  Now that there's some "killer" appropriation.
Now go to the mirror – that really rad t-shirt might have been produced in one of those factories where the doors are locked to prevent the slowly suffocating workers from escaping the 45° C heat.  It might even be one of the ones where the workers were immolated because they couldn't get out when the substandard factory burst into flames.  Come to think of it, my air conditioner probably comes from a factory like that too.
You can see where I'm going here, right?  Your food – the appropriated labour of disenfranchised peasants forced to slave away in dangerously polluted conditions on agribusiness plantations so we can buy avocados and raspberries and kiwis… all year round (and bitch about how fruit and vegetables don't taste like anything anymore – go figure!).  The dishes you're eating that food off of – why do you think Dollarama's so cheap?  (First clue:  the top 1% of the population is getting richer – and the top 0.1% even more so – and the rest of us are getting poorer.)  Then, there's all those technological gewgaws that have replaced human relationships in your life – assembled by people who could probably not afford them in conditions that will cut many of their lives short.  When they break, which they usually do pretty quickly, or when they become "pseudo-obsolete" (who wants an iPhone 5 when the iPhone 6 is on the market?), they will be turned into toxic garbage mountains where the children of workers just like the ones who assembled this crap play. What's our major reaction to all of this?  We're pissed when we have trouble communicating with that egregiously underpaid woman in Lahore who answers our tech support call when one of the aforementioned gewgaws isn't cooperating.  I mean, really, how thoughtless of her to have an accent we have difficulty with when she speaks a language the British imposed upon her and her country, a country where she has to take a crappy phone job or starve.
All of this has me thinking that what these folks might well like would be for us to stop appropriating their lifeforce and converting it into our vacuous lifestyle, and I rather doubt they give a fuck if we're playing an aburukuwa when we do that.  In one sentence:  Not playing the aburukuwa is not enough – it's not even really a start.