MAINTENANT – LES LIGNES FERROVIAIRES DU CN BLOQUÉES SUR LA RIVE SUD DE «MONTRÉAL» APPEL PUBLIC AUX RENFORCEMENTS// BREAKING – CN RAIL LINES BLOCKED ON SOUTH SHORE OF "MONTRÉAL" PUBLIC CALL FOR REINFORCEMENTS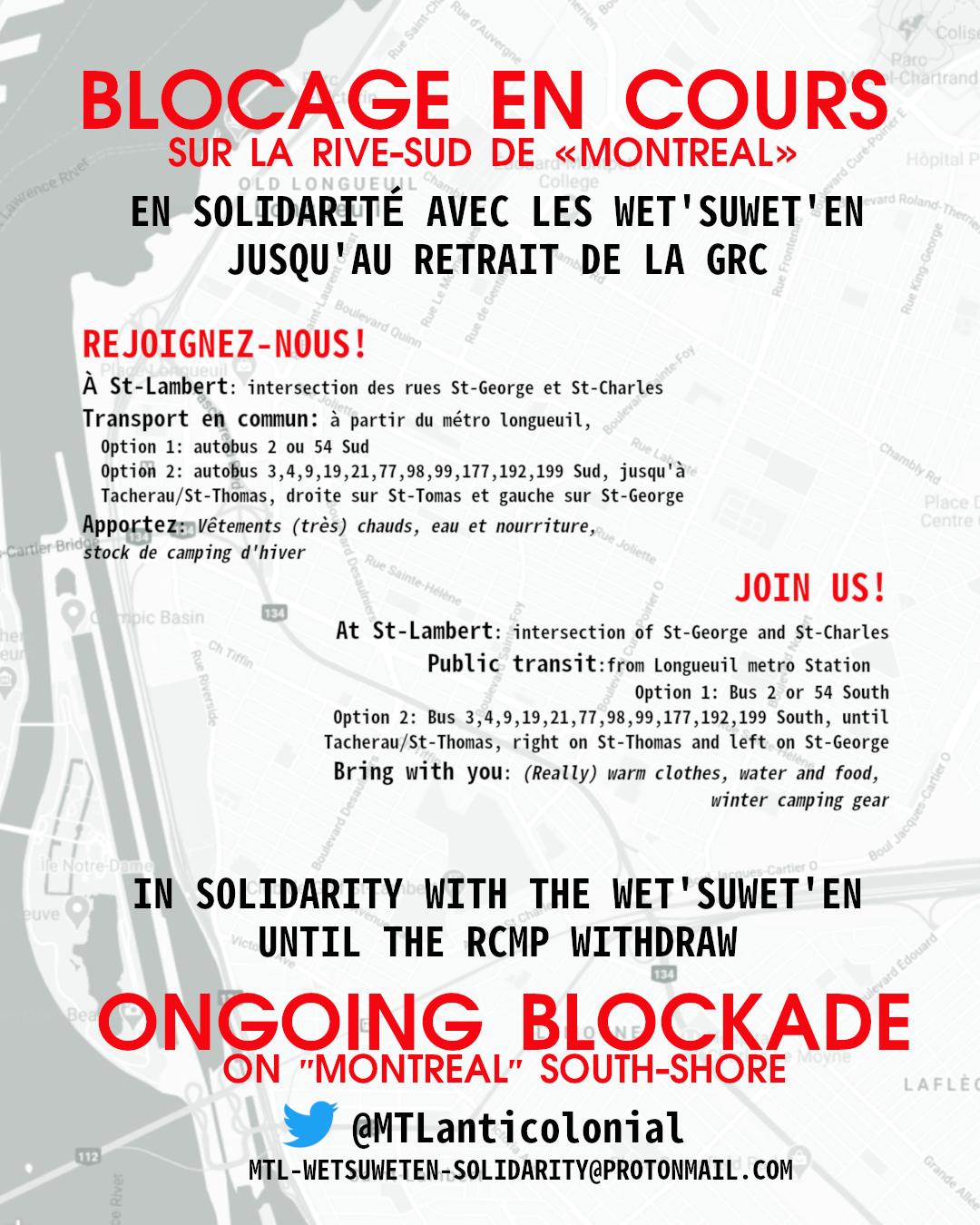 MAINTENANT – LES LIGNES FERROVIAIRES DU CN BLOQUÉES SUR LA RIVE SUD DE «MONTRÉAL»
APPEL PUBLIC AUX RENFORCEMENTS//
BREAKING – CN RAIL LINES BLOCKED ON SOUTH SHORE OF "MONTRÉAL"
PUBLIC CALL FOR REINFORCEMENTS
(english below), Communiqué reçu par Contrepoints.media
Une voie ferrée du CN traversant la ville de St-Lambert, connectant Montréal à l'Est du Canada et aux États-Unis, est présentement bloquée à l'intersection de la rue St-Georges. Nous agissons en solidarité avec les Wet'suwet'en qui luttent contre le projet de corridor énergétique de CGL et dont le territoire est envahi par la GRC.
Depuis le début de cette invasion, les blocages se sont multipliés à travers le pays. Nous sommes inspirés par les actes courageux de résistance autochtone dont nous avons été témoins, notamment les barrages ferroviaires en cours à Kahnawake et Tyendinaga. Nous avons installé ce nouveau campement bloquant les voies du CN, car nous pensons que ces défenseurs de l'eau et de la terre ne devraient pas avoir à se battre seuls.
Nous invitons tous ceux qui peuvent nous rejoindre sur le site de ce campement. Le blocage est érigé un bloc au sud de la rue Saint-Georges et de l'avenue St-Charles. Vous pouvez vous y rendre en prenant le bus 2 ou 54 sud du métro Longueuil (apportez de la monnaie pour un tarif supplémentaire). Nous encourageons tout le monde à apporter des vêtements très chauds, de l'eau, de la nourriture et tout équipement de camping d'hiver auquel vous avez accès.
Nous continuerons à bloquer la voie ferrée jusqu'à ce que la GRC se retire des territoires Wet'suwet'en. Nous encourageons les autres à prendre action afin de forcer le gouvernement à accepter les demandes des chefs héréditaires Wet'suwet'en.
Pour de plus amples informations, suivez le twitter @MTLanticolonial, qui fera un suivi en continu du blocage, ou écrivez à mtl-wetsuweten-solidarity@protonmail.com.
#ShutDownCanada #AllEyesOnWetsuweten #WetsuwetenStrong #Wetsuweten
—————————-
BREAKING – CN RAIL LINES BLOCKED ON SOUTH SHORE OF "MONTREAL"
PUBLIC CALL FOR REINFORCEMENTS:
A CN rail crossing in Saint-Lambert, Quebec is currently being blocked. The track connects Montreal to Eastern Canada as well as to the United States. We are acting in solidarity with the Wet'suwet'en who are fighting against Coastal Gas Link's proposed energy corridor through their territory and whose land was invaded by the RCMP in January.
Since the beginning of the RCMP's invasion, many different types of solidarity blockades have multiplied across the country. We are inspired by the courageous acts of Indigenous resistance we have witnessed, including the ongoing rail blockades in Kahnawake and Tyendinaga. We have set up this new encampment blocking CN tracks as we believe these land and water defenders should not have to fight alone.
We invite all those who are able to join us at the site of this encampment. The blockade is set up a block south of rue rue Saint-Georges and ave St Charles. You can get there by taking the 2 or 54 bus south from Longueuil metro (bring change for an extra fare). We encourage everyone to bring very warm clothes, water, food, and any winter camping gear you have access to.
We will continue to block the railroad tracks until the RCMP leaves Wet'suwet'en territory. We encourage others to take action in order to force the government to accept the demands of the Wet'suwet'en hereditary chiefs.
For more up to date information, follow us on twitter @MTLanticolonial or write us an email at mtl-wetsuweten-solidarity@protonmail.com.
#ShutDownCanada #AllEyesOnWetsuweten #WetsuwetenStrong #Wetsuweten #ShutCanadaDown