Montreal 2019 Certain Days Calendar Launch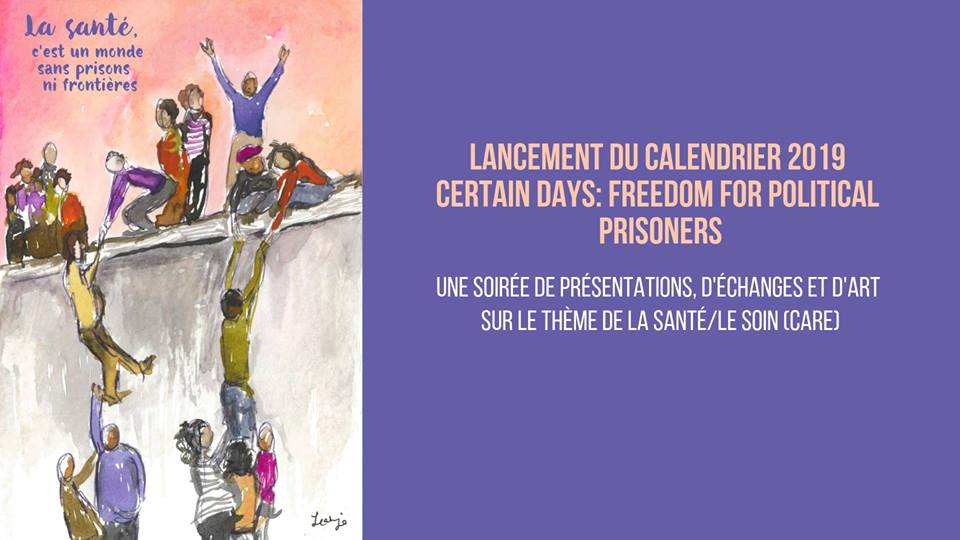 (english follows)
Lancement du calendrier 2019 Certain Days: Freedom for Political Prisoners
Une soirée de présentations, d'échanges et d'art sur le thème de la santé/le soin (care)
*****************************************************************
Jeudi 13 décembre 2018, 18h30
GRIP-Concordia
2100 rue Guy, #205, Tio'ta:ke (Montréal)
(Métro Guy-Concordia)
facebook: https://www.facebook.com/events/203036423907655/
Joignez-vous à nous pour le lancement du calendrier 2019 Certain Days: Freedom for Political Prisoners, cette année sur le thème de la santé et du soin ("care").
Dans une société où le pouvoir dominant profite de la dépossession des personnes marginalisées, nous devons questionner le réel objectif de la criminalisation et des prisons.
Les prisons arrachent des personnes qui sont déjà précarisées dans nos communautés pour s'en servir comme boucs émissaires des maux créés par le système capitaliste, le colonialisme, le racisme et l'hétéropatriarcat. Au lieu d'agir en amont pour s'opposer aux inégalités qui continuent de s'accroître malgré notre richesse collective, les gouvernements investissent de plus en plus dans les prisons, qui deviennent une réelle industrie agissant comme une forme "d'esclavage moderne" – comme l'ont décrié les prisonnierEs en grève aux États-Unis plus tôt cette année.
Le thème de la santé en prison est mis en relief pour le calendrier Certain Days 2019.
Pour celles et ceux enferméEs dans les prisons mais aussi dans les centres de détention d'immigration, bloquéEs par les frontières et les murs militarisés, déplacéEs sur des réserves et par les effets du colonialisme, brutaliséEs par la police et le système d'(in)justice, la violence et la déshumanisation se traduit par la maladie et par un manque criant d'accès à des soins dignes.
La santé dans toutes ses dimensions – physique, mentale, émotionnelle, spirituelle, environnementale, communautaire – est fondamentale à toute lutte pour la libération.
Joignez-vous à nous pour une soirée de discussion et d'échanges sur la lutte autour des enjeux de santé et de "care" au sein de nos mouvements pour la justice sociale.
– Un évènement co-organisé par le collectif Certain Days et le collectif Soignons la Justice Sociale, récemment formé.
—————————-
Avec:
* Helen Hudson – membre du collectif Certain Days
* Bill Van Driel – membre de Solidarité Sans Frontières
* Autres intervenantEs à confirmer
Information sur l'accessibilité:
http://www.qpirgconcordia.org/accessibility/
Un service de garderie, de la traduction chuchotée (français/anglais/espagnol) et des collations seront disponibles sur place.
—————————–
Qui sommes-nous:
*Le collectif Certain Days: Freedom for Political Prisoners est un projet de levée de fonds et d'éducation de militantEs baséEs à Montréal, Hamilton, New York et Baltimore, en collaboration avec le prisonnier politique David Gilbert, détenu dans une prison de sécurité maximale dans l'état de New York. Robert Seth Hayes et Herman Bell, qui ont co-fondé le projet, ont été libérés de prison en 2018.
*Le collectif Soignons la justice sociale est un collectif récemment formé à Tio'ta:ke (Montreal) qui milite autour des enjeux de justice sociale en santé.
Courriel: SoignonsLaJusticeSociale@riseup.net
**Les sommes recueillies par la vente de calendriers iront aux organisations Addameer (une organisation de soutien aux prisonnierEs en Palestine) et Release Aging People in Prison (RAPP – une campagne qui mobilise autour de la libération des prisonnierEs âgéEs). Pour plus d'info: https://www.certaindays.org/
::::::::::::::::::::::::
2019 Certain Days: Freedom for Political Prisoners Calendar launch
An evening of presentations, exchange and art on the theme of health/care
*****************************************************************
Thursday December 13th 2018, 6:30PM
QPIRG- Concordia
2100 Guy street #205, Tio'ta:ke (Montréal)
(Metro: Guy Concordia)
facebook: https://www.facebook.com/events/203036423907655/
Join us as we launch the 2019 Certain Days: Freedom for Political Prisoners calendar, on the theme of Health/Care.
In a society where those in power profit from the dispossession of the most marginalized, we have to question the real purpose of criminalization and prisons.
Prisons tear people away from our communities. Those who already live in precarity are used as scapegoats for the ills caused by capitalism, colonialism, racism and heteropatriarchy. Instead of addressing increasing disparities despite our immense collective wealth, our governments continue to invest in prisons, turning them into a profitable industry that operates as a "modern form of slavery" – as denounced by the US prisoners who launched a major strike earlier this year..
Health and care are highlighted in this year's Certain Days calendar.
For those locked away inside prisons but also in immigration detention centres , trapped at militarized fences and borders, displaced on reservations and by on-going colonialism, brutalized by the police and the (in)justice system, violence and dehumanization mean illness and lack of access to dignified care.
Health in all its dimensions – physical, mental, emotional, spiritual, environmental, community – is fundamental to all liberation.
Joins us for an evening of discussion and exchange on organizing around health/care as part of social justice movements.
– An event co-organized by the Certain Days Collective and The Caring for Social Justice collective
———————–
Speakers:
*Helen Hudson — member of the Certain Days collective
*Bill Van Driel – member of Solidarity Across Borders
* Other speakers to be confirmed…
Accessibility info:
http://www.qpirgconcordia.org/accessibility/
Childcare, whisper translation (english/french/spanish) and snacks will be provided.
———————-
Who we are:
*The Certain Days: Freedom for Political Prisoners Calendar is a joint fundraising and educational project between outside organizers in Montreal, Hamilton, New York and Baltimore, in partnership with a political prisoner being held in maximum-security prison in New York
State, David Gilbert. Co-founders Robert Seth Hayes and Herman Bell were released from prison in 2018.
*The Caring for Social Justice Collective is a recently formed collective based in Tio'ta:ke (Montreal) who organize around issues relating to social justice in healthcare.
Email: SoignonsLaJusticeSociale@riseup.net
** The proceeds from the calendar will go to Addameer (a prisoner support organization in Palestine) and Release Aging People in Prison (RAPP – a campaign mobilizing around the release of aging prisoners).
For more info : https://www.certaindays.