Montreal Anarchist Bookfair: May 26 & 27, 2018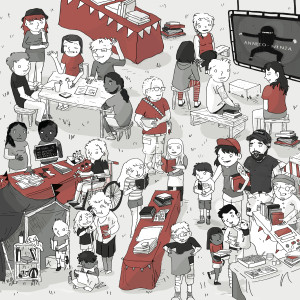 Mark your calendars …
MONTREAL ANARCHIST BOOKFAIR 2018
Two days: Saturday, May 26 & Sunday, May 27
From 10am to 5pm on both days
The Anarchist Bookfair will take place in two buildings across from each other in Parc Vinet:
– Centre d'éducation populaire de la Petite-Bourgogne et de St-Henri (CEDA), 2515 rue Delisle
– Centre Culturel Georges-Vanier (CCGV), 2450 rue Workman 
A short walk from Lionel-Groulx metro.
No gods, no masters, no bosses, no borders.
FREE. Welcome to all!For anarchists, and people curious about anarchism.
-> Participants from all over Quebec and North America, booksellers and vendors, workshops, films, discussions, kids' activities, art exhibits and more!
-> Part of the month-long Festival of Anarchy held throughout May 2017 at venues and locations all over the island of Montreal.
-> During this year's Bookfair, tabling will take place over two days: May 26-27, between 10am and 5pm.
CONTACT INFORMATION:
-> e-mail: 
info@anarchistbookfair.ca
-> mail: Salon du livre Anarchiste de Montréal
1500 de Maisonneuve Ouest, Suite 204
Montréal, Québec H3G 1N1