Montreal Screening: The Gentleman Bank Robber
when: Friday, March 9 at 7 PM – 10 PM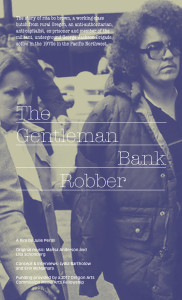 where: qpirg concordia, 1500 de maisonneuve ouest (montreal)
facebook: https://www.facebook.com/events/1065764840275933/
The Gentleman Bank Robber is a portrait of revolutionary rita bo brown, a white working class butch from rural Oregon who became known as "The Gentleman Bank Robber" in the 1970s for combining her butch style of dress with a polite way of demanding funds from bank tellers.
The film moves between everyday moments with bo in and around her current home in Oakland, California, and historical retelling of the events of bo's extraordinary life through interviews with bo and her collaborators, archival materials, and rare social movement ephemera.
The Gentleman Bank Robber weaves together personal and political perspectives on 20th century social movement histories, including queer liberation in the 1960s; militant, underground activity with the George Jackson Brigade in the 1970s, a revolutionary prison abolitionist group; political prisoner support work in the 1980s, and prison activist work into the present day. bo brown is a model for how to lead a life of committed activism while maintaining a sense of humor and humanity.
Note that this event is pay what you can, and all funds received will go to support Bo's medical expenses (see below)
Books from Kersplebedeb will be available, including Lumpen: The Autobiography of Ed Mead (one of Bo's comrades from the George Jackson Brigade), at big discounts.
Childcare will be available.
Directed by Julie Perini, 47 minutes, 2017
With original music by Marisa Anderson & Lisa Schonberg
SUPPORT BO BROWN!
In the summer of 2016, bo was diagnosed with Lewy Body Dimentia, a terminal neurodegenerative disease. As of October 2017, bo's community is raising funds to support her in-home medical care. Donate to the Bo Brown, Forever Activist, Forever Survivor fundraising campaign here:https://www.youcaring.com/bo-brown-655777
ACCESSIBILITY INFORMATION
QPIRG Concordia is a wheelchair accessible and scent-free space see http://www.qpirgconcordia.org/accessibility/ for further details
for more information email info@kersplebedeb.com