North American Anarchist Studies Network Conference 2018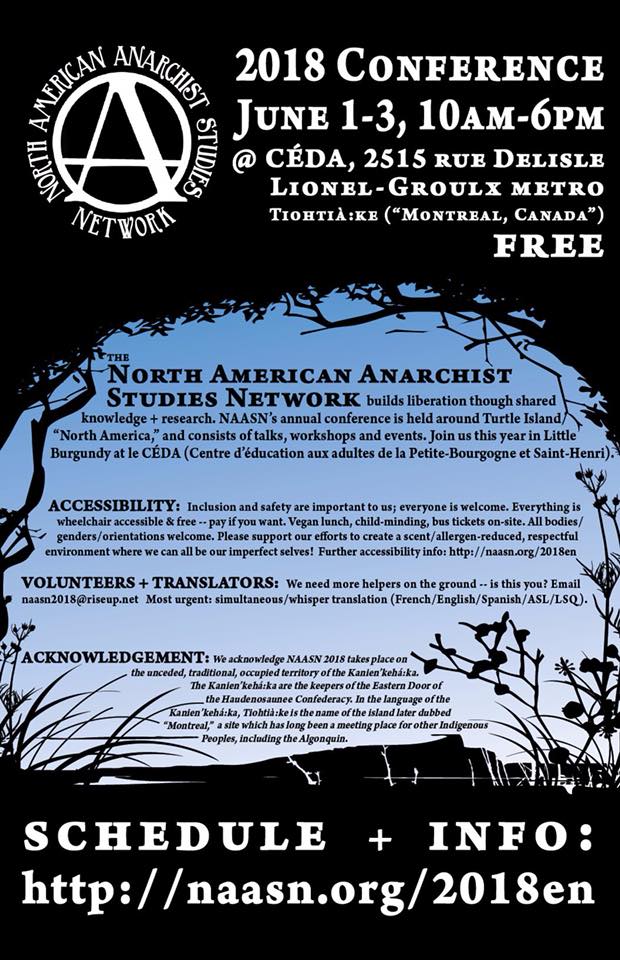 WHERE: CEDA, 2515 Rue Delisle, Montréal, QC 
WHEN: June 1-3, 10am-6pm
FACEBOOK: https://www.facebook.com/events/239455783465853/
The North American Anarchist Studies Network conference (NAASN) is intended to be a space where disciplinarity and resistance can converge on Turtle Island/"North America", and is held in a different location throughout Turtle Island/"North America" each year.
We're excited to welcome all those attending and presenting to NAASN 2018 (our 8th conference!) happening in Montréal from June 1-3rd at CÉDA. As many of you are aware it will be a busy few weeks for radicals in so-called Québec, with the Montréal Anarchist Bookfair happening the weekend before.
Inclusion and safety are important to us; everyone is welcome. All bodies/genders/orientations welcome. The conference is free and open to the public — pay if you want. CÉDA is fully wheelchair accessible and we ask that those attending help to make NAASN 2018 a scent/allergen-reduced event. Bring your kids — child-minding will be provided! Vegan meals as well as bus tickets will also be provided onsite. More accessibility info to follow.
More info, including past NAASN convergences, can be found athttp://naasn.org/2018.
NAASN 2018 will take place on the unceded territory of the Kanien'kehá:ka. The Kanien'kehá:ka are the keepers of the Eastern Door of the Haudenosaunee Confederacy. In the language of the Kanien'kehá:ka, Tiohtià:ke is the name of the island later dubbed "Montreal", a site which has long been a meeting place for other Indigenous peoples, including the Algonquin.