Nov. 25 + Nov. 26: Expozine 2017!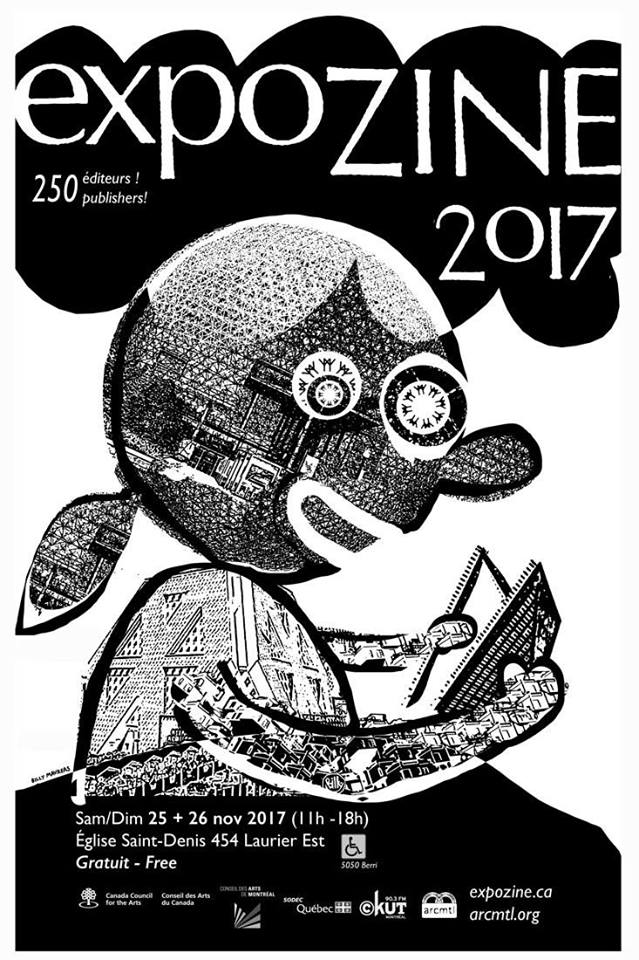 Saturday Nov. 25 / samedi le 25 novembre, de 11h00 à 18h00
Sunday Nov. 26 / dimanche le 26 novembre, de 11h00 à 18h00
Église Saint-Denis, 454 Laurier E. ( accessible entry/ en fauteuil roulant 5050 Berri )
Gratuit – Free
Avec plus de 250 éditeurs à Expozine 2017, c'est l'occasion exceptionnelle de plonger dans l'univers décalé des éditeurs, écrivains et artistes indépendants locaux et internationaux, et de rencontrer en personne le milieu des petits éditeurs montréalais, francophone et anglophone.
With more than 250 participating publishers, Expozine 2017 is an exceptional opportunity to dive into today's small press and zine scene, local and international, and to meet the creators in person, both English and French.
Pour plus d'informations / for more information : expozine.ca/foire/2017-2/
Groupe FACEBOOK group : http://www.facebook.com/groups/145881968842/
AVIS: il est à noter aux personnes allergiques qu'un chat vit dans cette église et que l'éclairage en est un fluorescent. Alcool interdit. Du café, des breuvages et des collations seront disponibles. Malheureusement, l'espace restreint ne nous permet pas d'offrir un espace de relaxation ni d'espace de lecture. L'espace est accessible aux personnes à mobilité réduite via l'entrée à 5050 Berri et les toilettes sont mixtes et accessibles.
NOTE: Please be aware in case of allergies that there is a cat on the premises. Lighting is fluorescent. Alcohol is not permitted. Coffee, beverages and light snacks will be available. is no reading room/ quiet room available in this venue. The venue is fully accessible (via 5050 Berri) as are the bathrooms, which are gender neutral.
EXPOZINE est un projet d'ARCMTL rendu possible grâce au soutien du Conseil des Arts de Montréal, du Conseil des Arts du Canada et SODEC.