Oct 31: Demonstration in Solidarity with Dollarama Warehouse Workers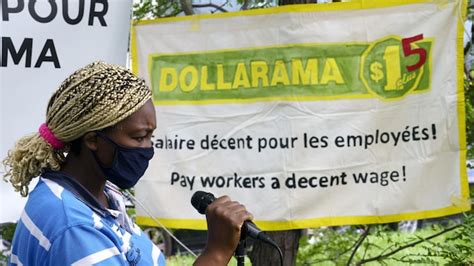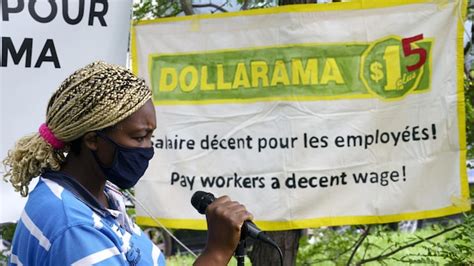 DOLLARAMA WAREHOUSE WORKER SOLIDARITY DEMONSTRATION
We are not temps! We are essential!
Join the demonstration in front of a Dollarama store to fight for:
PERMANENT JOBS FOR ESSENTIAL WORKERS!
Saturday October 31st,
1pm to 3pm
Next to Dollarama store
7017 St Hubert street-South of Jean-Talon
(Jean-Talon metro)
Since the beginning of the pandemic Dollarama was declared an essential service. This led to a massive hiring spree and increased profits. Yet for workers who are mainly refugee claimants, international students, and immigrants remain working in dangerous, low-paid, and temporary work. Again on November 1st Dollarama will cut its COVID-19 premium pay to its workers.
These workers remain vulnerable to contracting COVID-19 as 20% of all infections still take place within the workplace according to the department of public health Quebec. These workers have no choice to work from home and deserve to continue to receive their hazard pay across its workforce and at the distribution centre.
Dollarama can easily afford to make these workers permanent as many have worked for Dollarama upwards to 5 to 10 years. These workers remain precarious as Dollarama continues to exclusively employ temporary agency workers. These workers then are at heightened risk in terms of their workplace health and safety, enjoy no benefits, and remain insecure in their jobs. Yet these workers risked their lives to distribute the goods we needed, while the family of the CEO of Dollarama remains the 50th richest person in Canada worth over 2.52 billion dollars.
Dollarama has the ability to give its workers a permanent decent wage and continue their COVID-19 premiums. Dollarama's sales are up, it expanded the number of stores and its stockholders benefitted. None of this is surprising, it was designated an essential service at the beginning of the lock-down and stayed open. Dollarama reported sales of 844.8 million and 86.1 million earnings from April to June.
This is why workers and their allies will be rallying at the Dollarama store to make it clear to ensure justice and dignity for Dollarama workers who remain in insecure dangerous and precarious work. Also, this rally is in the context of the struggles of 'essential workers' who are demanding to remain with status. The limited regularization program put forward by the federal and Quebec government excludes a vast majority of people who continued to do essential work and also deserve status.
For more information
514-342-2111
Tawa.mtl@gmail.com