ONLINE, ONSCREEN, ON CKUT COMMUNITY RADIO, VIA STREET ART IN YOUR TOWN, AND WITH DANCING! JOIN US FROM ANYWHERE AND EVERYWHERE!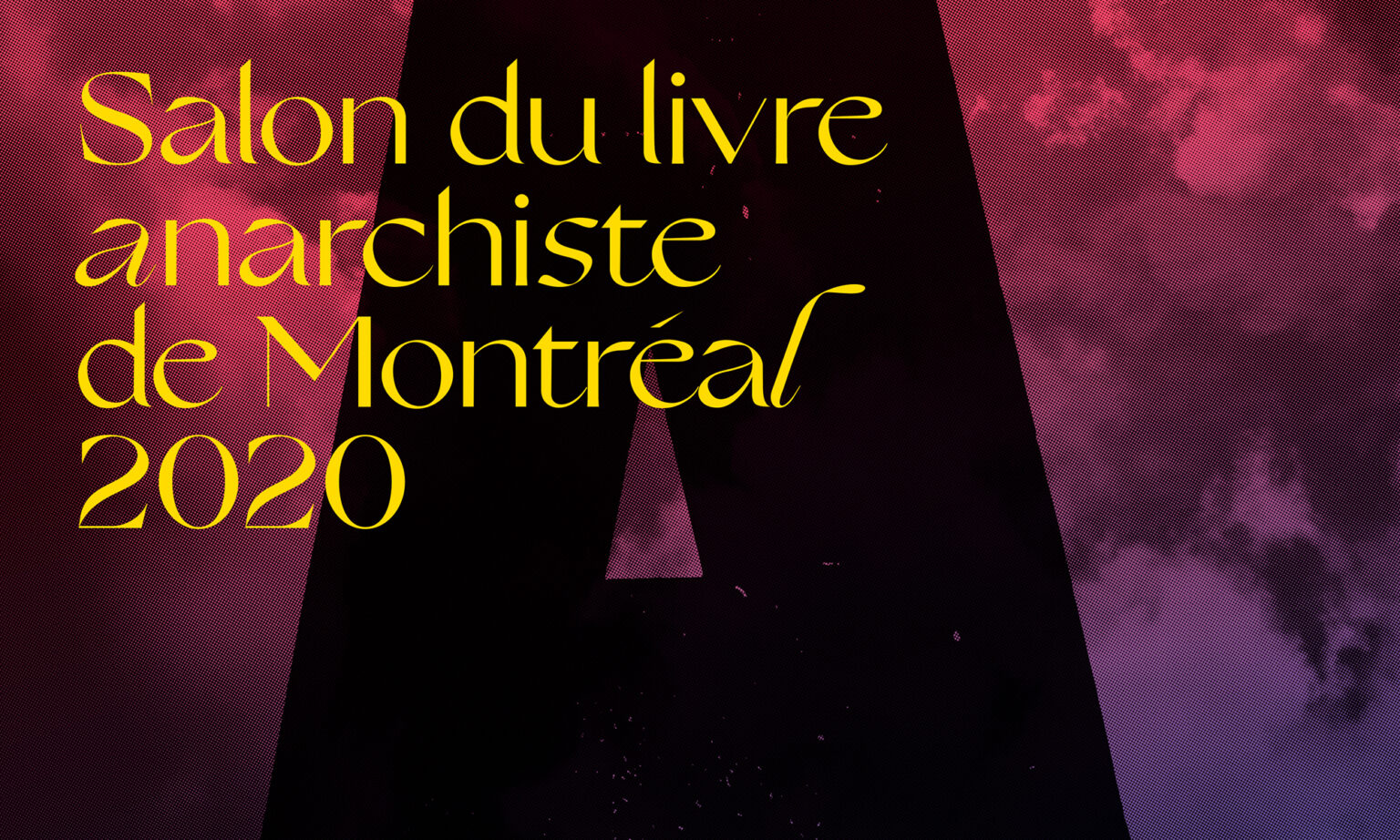 Join us for this year's Montreal Anarchist Bookfair, Sunday, May 17, 2020, connecting ideas across distance from 10:30 a.m. to 12:00 p.m. EDT.
It will feature online tabling and special deals from anarchist publishers/artists, Art and Anarchy street art on physical walls in various cities, and online workshops, talks, and chat rooms. We'll also be hosting a film screening and rounding off the day with a special DJ set "dance" party! Details will be added daily to our website under the various sections, so keep checking back.
Montreal Anarchist Bookfair May 17, 2020 Schedule
All day – Art and Anarchy – Open Chat – Tablers
11 am : L'anarchisme et le Mouvement de la Science Transparente (fr)
11:30 am :  Liberating Sápmi: Indigenous Resistance in Europe's Far North (en)
Noon :  Conversations with Gidimt'en: Updates from the Front Lines (en)
1 pm : Mutual Aid for Survival and Freedom (en)
2 pm : Collective Care vs. Containment (en)
3 pm : Antifascism during Pandemic (en)
4 pm : Dialed In: A Conversation with Radio Pandemic (en)
5 pm : Grief Space
6:30 pm : Pom Poko (fr/en) (film)
9 pm : Beneath the Paving Stones, the Dance Floor!
Call for "Art and Anarchy" across Distance
The twenty-first edition of the Montreal Anarchist Bookfair has to look radically different this year, but we're striving for as much connection across distance as we can during our daylong gathering on Sunday, May 17, 2020. To that end, rather than our usual Art and Anarchy exhibit in the physical bookfair space, we're calling on people to physically share anarchistic art and banners on the streets of cities across the globe. It's a way of embodying our love and solidarity for each other, and also illustrating quite literally that we're still here, that anarchism is still alive and well.
The idea is simple. On or before May 17:
Put up street art and/or a banner—your own and/or others' creations
Take photos, or get a friend to do so
Post the photo(s) on social media, or get friends to do it, with the hashtag #ArtAndAnarchy. Include the location, as general or specific as you want
Share it with us at (info [at] anarchistbookfair [dot] ca), so we can then post it on our website and potentially use it, with your permission, in a post-bookfair zine
Please spread the word far and wide. It would be so beautiful to see art and anarchism spread across borders and walls around the world, bringing us closer together.