Ottawa Zine Fair, June 4th!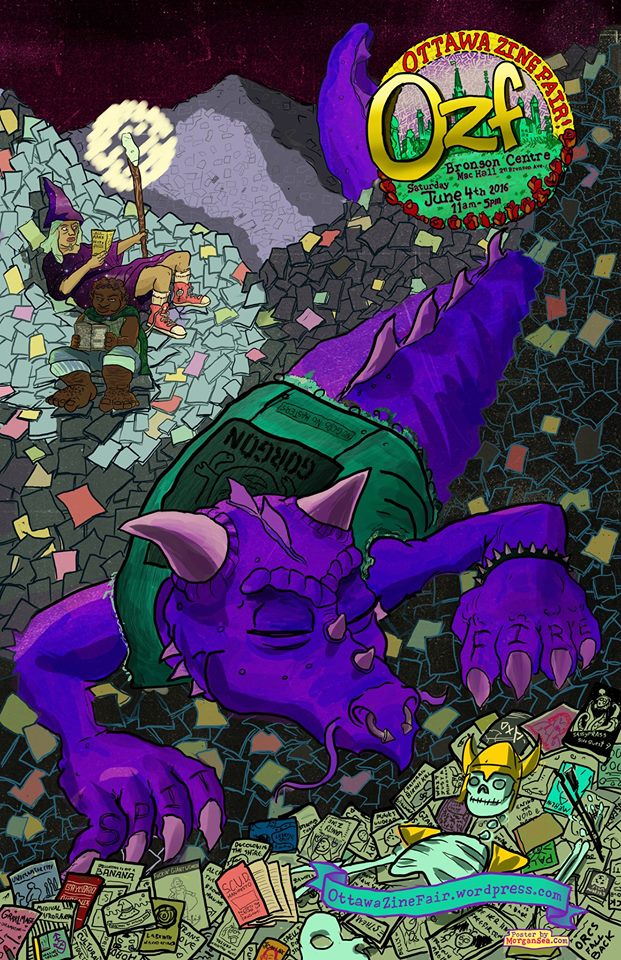 WHEN: Saturday June 4th, 11 AM – 5 PM
WHERE: Mac Hall at the Bronson Centre (211 Bronson Avenue) in Ottawa, Ontario, Canada, on unceded Algonquin territory.
Facebook: https://www.facebook.com/events/1714542355487887
COVER: By donation, pay what you can. All proceeds to support the Prisoner Correspondence Project. Find information at: http://www.prisonercorrespondenceproject.com/
TABLERS
¿Serio? Zine
Ace Zine Archive
Babely Shades
Broke Bellies
Decolonizing Street Art
Elijah Wipe
Emtothethird.
Encre Noire
Femme Crimes Distro
Fight Boredom Distro
from the margins
From the Root Zine
Ghost Pine zine
hamda!
Heidi Cho Makes Art
Howl! arts collective
Ian Martin
Jac N. Vanier
Justseeds Artists' Cooperative
Katherine Arnoldi
Kersplebedeb Leftwingbooks.net
Kind
Lane Patriquin
Late Bloom Zines
Lunarbovine
Made by CRO
Metonymy Press
mgglntCREATES
Morgan Sea
Musterni
Naomi Moyer of élastiquedesigns
NCRA Indigenous Zine
Nshannacappo
The RivetCave
Sabrina Scott / Witchbody
Sad Weekends
saicoink
Sarah Mangle
She Shouts
soft cedar – things i make
Starkiss Creations
Steph Meunier
The Piece of Work
tire swing
We'll Never Have Paris
The Wheelhouse
Zines or Something Press
Full list of tablers with descriptions at this link: https://ottawazinefair.wordpress.com/2016-2/
ACCESSIBILITY
*The Bronson Centre is wheelchair accessible, with ground-floor, push-button entrance and ramps. There are physically accessible washrooms in the building.
*Washrooms in Mac Hall will be made gender neutral for the day.
*OZF strives to be scent free. There will be unscented soap in the washrooms. We ask that all attendees, volunteers and tablers come scent-free. Please take the time to read the following resources about how to be scent-free and why it's important:
1) http://www.brownstargirl.org/blog/fragrance-free-femme-of-colour-realness-draft-15
2) http://marandaelizabeth.com/2015/10/07/making-spaces-accessible-scent-free-to-create-opportunities-for-friendship-connection-support/
*This event will not be serving alcohol and we ask that people not consume alcohol or other substances on site. Folks who need drink or use other drugs prior to attending the event will not be turned away.
*There will be complimentary snacks, tea and coffee available for attendees, volunteers and tablers.
*We hope to have support liasons on site to assist and provide support including active listening, ushering and corresponding with event organizers. Please let us know on our volunteer form if this is something you feel able to do.
SAFE(R) SPACE (?)
It would be awesome if we could promise a you safe space. The thing is, we don't think any space is ever safe. What we can strive for, though, is to be welcoming, inclusive, and committed to accountability.
We value zines as a way for marginalized stories and experiences to be represented. We will not tolerate racist, culturally appropriative, ableist, cissexist, transmisogynistic, homophobic, classist materials or behaviour.
Please do not touch anyone or take anyone's photo without their permission. Please ask someone's pronouns before you assume how they should be referred to.
VOLUNTEERING + BILLETING
It is a lot of work to make a zine fair, and we would love your help! We need volunteers in a variety of areas, including hosting travelling zinesters!
Please fill out the form below if you want to volunteer or can offer a place for an out-of-town tabler to stay: https://docs.google.com/forms/d/1kqm94G-Wx9GI-YSQj7Q-hAss0QEGZmBco3frB7yq7fY/viewform?edit_requested=true
CONTACT
If you have any questions, comments or concerns (or just to get in touch), please email OZF at glitterandstuds@riseup.net or visit our website athttp://www.ottawazinefair.wordpress.com/ for more information.