Pingkian: Journal for Emancipatory and Anti-Imperialist Education, Vol.6 No. 1 (September 2021) – Now available on LeftWingBooks.net!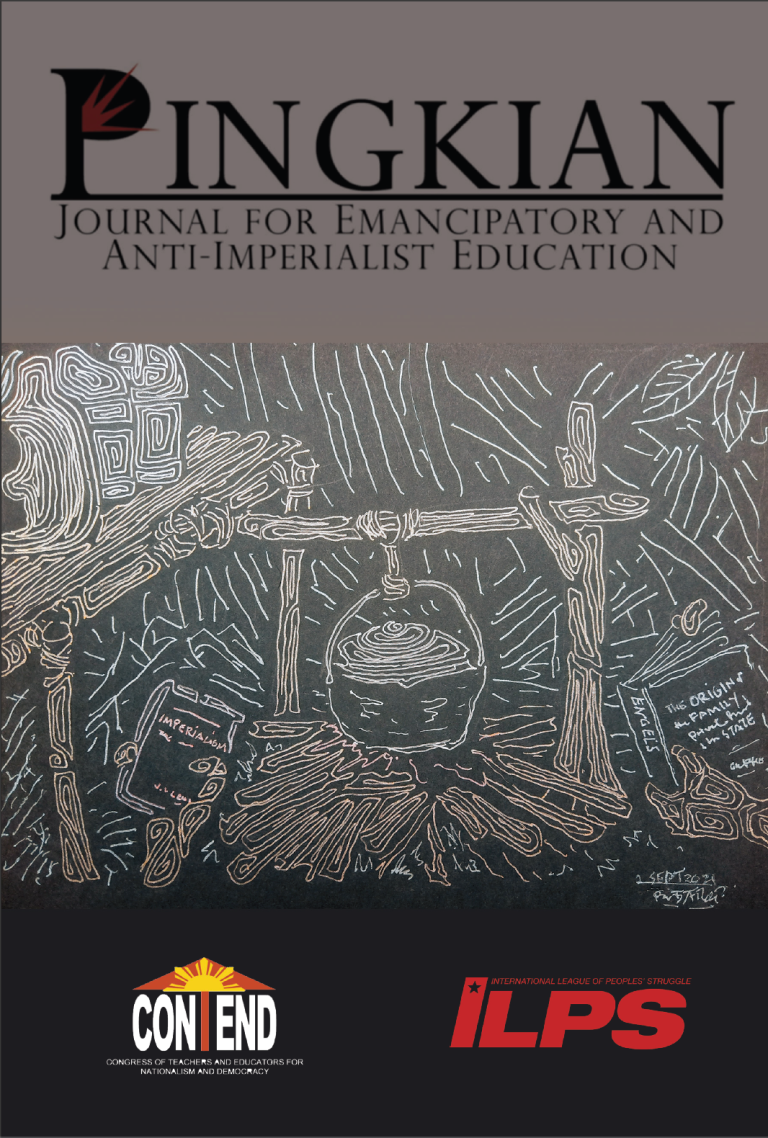 This journal will be available to ship in early November
pingkian
noun \pi?-k?-?n\
* flint
* nom de plume of revolutionary Emilio Jacinto
* metaphor for struggle
From the Philippines, PINGKIAN (pi?-k?-?n), Journal for Emancipatory and Anti-imperialist Education, is published by the Congress of Teachers/Educators for Nationalism and Democracy (CONTEND) and the International League of Peoples' Struggle (ILPS) Commission 11: Struggles of teachers and other education workers against imperialism and for an alternative future. A PDF version of this journal can also be downloaded from https://pingkianjournal.wordpress.com/
Table of Contents, Volume 6 Number 1
Editor's Note
Ma. Diosa Labiste
Keynote Addresses
Engels and Lenin: Theorists of the General Antagonism
J. Moufawad-Paul
Engels and Lenin, Two great revolutionaries: Their Relevance to the Philippine National Democratic Struggle
Julieta de Lima
Articles
Nationalism in History Writing: Revisiting Teodoro A. Agoncillo and the Nationalists After Him
Francisco Jayme Paolo A. Guiang
Panel Proceedings
A Panel Discussion on Friedrich Engels's The Origin of the Family, Private Property and the State
Ma. Diosa Labiste, Gert Ranjo-Libang, Donna Miranda, Judy Taguiwalo
Reviews
Jose Maria Sison's On the Philosophy of Marxism-Leninism-Maoism
Jerry Imbong
Jose Maria Sison's Critique of Philippine Economy and Politics
Phoebe Zoe Maria Sanchez
Graduation Address
Padayon ta sa Pakigbisog: A Challenge and Message of Lumad youth
Chricelyn Empong, Jose Monfred Sy, Tilde Acuña Parangal
Para Kay Rjei Manalo (1990-2020)
Ana Christina M. Bibal, Anca Paje, Tilde Acuña
Call For Papers
The cover
"Food for revolutionary thought & practice" (Tilde Acuña, 2021) 8.25" x 5.875" metallic pen on black board paper. The work re-draws a painting by Parts Bagani, guerrilla & artist, who was recently murdered by military and police operatives in South Cotabato. To complement CONTEND's celebration of the lives & works of Lenin and Engels in this issue of PINGKIAN, this rendering adds two comrades into the frame, reading digital and physical copies of Imperialism, the Highest Stage of Capitalism & The Origin of the Family, Private Property and the State, while waiting for sinaing (cooked rice).