Prisoner Justice Day Punk Show (Montreal, August 7th)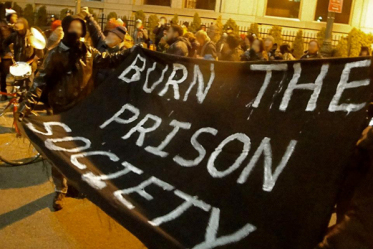 (français suivra – la majorité de l'événement va être en anglais)
Prisoner Justice Day Punk Show
Sunday, August 7th, 2016
Brasserie Beaubien
73 Beaubien Est (metro Beaubien)
Doors at 8pm
Starts promptly at 8:30pm
Sliding scale $5-$10, no one turned away for lack of funds
Featuring:
the Termite Collective (not music! demandprisonschange.wordpress.com)
Prison: (queerprison.bandcamp.com) synthy post-punk from copenhagen
Terse: black sheep d-beat
Clayborne: (clayborne-mtl.bandcamp.com) post-hardcore about mars
Between sets, members of the Termite Collective will share the history of Prisoners Justice Day, which is on August 10th. PJD is a day when folks in prison, and friends and family on the outside, commemorate people who have died in prison. Historically, prisoners have refused to work or eat and supporters on the outside have hosted benefit shows, vigils, and other events to raise awareness about the conditions prisoners face in prison.
Accessibility information: There are 2 short steps (about 3 inches and about 5 inches) leading into the space. Then two doors that pull to the exterior.
Bathroom accessibility: There are 2 shared bathrooms that are normally gendered but we will gender neutralize for the evening. The stalls in these bathrooms are rather small and do not have hand rails.
This show is taking place on occupied Kanien'keháka land.
————————-
Show Punk pour la journée de la justice pour les prisonniÈres
dimanche le 7 août, 2016
Brasserie Beaubien
73 Beaubien Est (métro Beaubien)
Portes à 20:00
Musique et presentation à 20:30
Coût: échelle de $5 à 10, mais personne ne se sera refusé par manque de fonds
Avec
le Termite Collective (pas musique! demandprisonschange.wordpress.com)
Prison: (queerprison.bandcamp.com) post-punk avec synthé de copenhagen
Terse: d-beat mouton noir de montreal
Clayborne: (clayborne-mtl.bandcamp.com) post-hardcore à propos de Mars
Entre les séances de musique, les membres du Collectif Termite partageront l'histoire de la Journée de la Justice pour les PrisonnierEs, qui a lieu chaque 10 août. Chaque JPP, les gens en prison, et leurs amiEs et famille à l'extérieur commémorent les gens qui sont morts en prison. Historiquement, les prisonniÈres ont refusé de travailler ou de manger ce jour là, et en guise de montrer leur soutient, les membres de la communauté organise des spectacles, des veillées, et d'autres événements de sensibilisation sur les conditions des prisonniÈres le jour même. Cet événement a pour but de démontrer notre soutient pour ceux et celles en prison, et ceux et celles qui sont décédéEs.
Information de l'accessibilité de l'espace: Il y a 2 marches basses (environ 3 pouces et environ 5 pouces) menant dans l'espace. Puis deux portes qui s'ouvrent vers l'extérieur.
Accessibilité des salles de bains : Il y a 2 salles de bains communes qui sont normalement genrés mais nous allons les rendre genre-neutre pour la soirée. Les étals dans ces salles de bains sont assez petites et ne disposent pas de barres d'appui.