Kevin Rashid Johnson Transferred to Indiana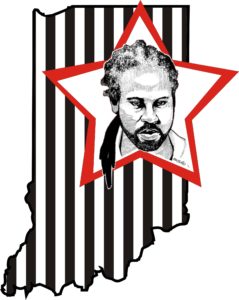 Kevin "Rashid" Johnson is a founding member of the New Afrikan Black Panther Party-Prison Chapter, and the NABPP-PC's Minister of Defense. He is also a renowned artist, and author of two books published by Kersplebedeb, Defying the Tomb and Panther Vision. He has been in prison for almost thirty years, much of it spent in solitary, a result of his ongoing writings that expose the abuses and cruelties of the world's largest prison system.
A Virginia prisoner, Rashid was transferred out of state (again!) in an attempt to silence him, this last transfer having occurred on November 3. He has been in Indiana since; at first at the state Reception Centre, but now at Pendleton. Please take a moment to send our comrade a letter, both to let him know he's in your thoughts, and also so that the prison authorities understand that we are watching and that Rashid has our support.
Rashid can be written to at:
Kevin Johnson
D.O.C. No. 264847
G-20-2C
Pendleton Correctional Facility
4490 W. Reformatory Road
Pendleton, IN 46064
Rashid has let us know that the prison does not allow cards, colored envelopes, including the standard orange manila ones, or colored paper — otherwise it will be refused by the prison. Envelopes must have a name on the return address. All mail is read by the prison authorities, so don't say anything that could get Rashid hassled, or that you can't have the prisoncrats reading.
To receive updates, and new writings from Rashid, check out Rashid's website at http://rashidmod.com/