Re-Build! Vol. 2 #2 is Now Available Online!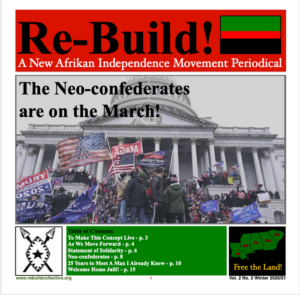 The Rebuild Collective is a New Afrikan Independence Movement Formation founded by New Afrikan Nationalists inspired by the thought of Movement theoretician Atiba Shanna and committed to winning the struggle for Independence and Socialism.
The Rebuild Collective maintains a website with a  number of important New Afrikan Independence Movement documents and links to related works and websites, and publishes a newspaper, Re-Build!. Current and previous issues are available for download on their Resources page at https://www.rebuildcollective.org/events-1.
Check it out!