Secret Fed Unit Tasked with Co-opting Protests Against Copkillings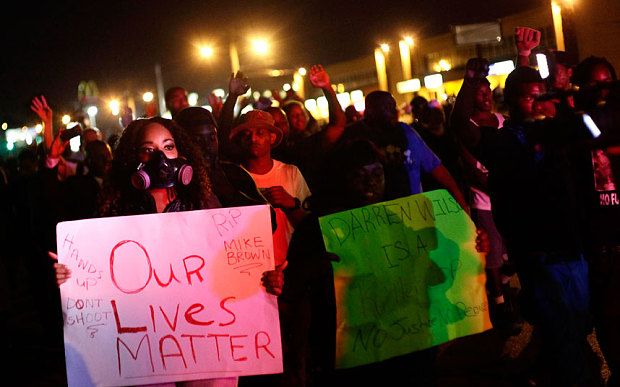 From the mainstream St Louis Post-Dispatch, this struck me as usefully revealing: 
The Justice Department's soft side: How one federal agency hopes to change Ferguson
By David Hunn, October 12th, 2014
FERGUSON • The peacemakers arrived on a Sunday. It was a little more than a day after Michael Brown's shooting.
They introduced themselves to police and city officials that afternoon. They met with Brown's family late that night, in a Highway Patrol truck down the street from the Canfield Green apartments.
The two, both mediators with a secretive unit of the U.S. Department of Justice called the Community Relations Service, were the first federal officials to arrive in Ferguson.
Since then, as many as eight have worked behind the scenes in Ferguson daily. They've held dozens of meetings with police, residents and community leaders, nearly all of them in secret. They have run town hall meetings closed to all but residents. They often ask attendees not to name names or talk specifics.
Department officials in Washington, citing provisions of the 1964 Civil Rights Act that created the unit, won't even provide basic information on its employees or their work here.
And yet the agency is playing what may prove to be the most important role of any in Ferguson: persuading apprehensive residents, overwhelmed city officials, angry protesters and frustrated police to sit together and talk.
"God bless them," said Patricia Bynes, a Democratic Party leader for Ferguson, and a near-constant presence on Ferguson streets since Brown's shooting. "Right now, it's almost like they're herding cats."
The Community Relations Service is just one part of four Justice Department operations here.
Days after the Aug. 9 shooting of Brown by Ferguson police Officer Darren Wilson, the department announced it would launch an investigation concurrent with St. Louis County's, which took over for Ferguson police. About a month later, following night after night of protest and violence, the department said it would expand its work into an examination of the use of force in Ferguson.
At the same time, it said, it would send its community policing unit to Ferguson and St. Louis County to analyze police methods and offer training.
But the Community Relations Service — a 50-person, $12 million-a-year unit — is entirely different from those three larger operations. It has no investigative authority. Its mediators have been in St. Louis quietly working on disputes long before Brown's death thrust Ferguson into the global consciousness.
And its goal, said Director Grande H. Lum in an interview last week with the Post-Dispatch, isn't to make arrests or file lawsuits, but to give all sides a private place to talk, and, hopefully, solve their own problems.
"Those are the longest-lasting solutions — when the people themselves resolve their own disputes," Lum said. His unit, he said, allows "people to speak."
Lum wouldn't discuss the details of his agency's work in Ferguson. He said mediators are trained to identify underlying causes, parties involved, and those who need to be included.
"We are going to be there," Lum said, "as long as it is needed."
But Lum and his team have a hill ahead of them. They'll have to overcome the perception, among some, that their work isn't impartial. In Nebraska, for instance, residents raised concerns after a Justice Department mediator came into town to discuss a parade float carrying an outhouse labeled the "Obama Presidential Library." And in Sanford, Fla., some conservative bloggers argued mediators were siding with protesters following the shooting of Trayvon Martin.
"Fifty years ago, they were incredibly important and incredibly effective," said John Christian Adams, a former Justice Department attorney and frequent critic of Attorney General Eric Holder. "They got between people (who were) at each other's throats. Now they've evolved into something that has taken sides."
Mediators here will also have to grapple with a town — Ferguson — that had no organized activist community before Brown's shooting, and instead wade through a dozen or more groups that have arisen since.
Perhaps more importantly, they'll have to engage a segment of Ferguson that has, so far, resisted: Few of the angry young men and women who have filled the streets here late at night have yet to sit down with police and community leaders at the group meetings.
BEHIND THE SCENES
The Community Relations Service calls itself the nation's peacemaker. Leaders say their field workers have, for more than 50 years, responded to racial rifts and unrest in American cities — from public school desegregation in the 1970s to post-9/11 backlash against Arab-Americans to the unrest in Sanford in 2012.
"I want to say that we wouldn't have exploded," said Mayor Jeff Triplett of Sanford, Fla. Triplett, 45, graduated from Missouri Southern State University. "I think they got us all to the board table … probably a couple weeks faster than we ever could have done. We would have been putting out fires, so to speak, everywhere."
In 2010, protests filled Seattle streets for about two weeks after a police officer shot an American Indian woodcarver on a downtown sidewalk.
"That totally lit the fuse," said Christopher T. Stearns, a Navajo, attorney and former chairman of the Seattle Human Rights Commission. Justice Department mediators organized meetings and helped keep protests peaceful. At one point, said Stearns, "outside agitators, anarchists, almost hijacked some of the protests."
"We were going to let people know how we felt, but we weren't going to attack the police or destroy shops that happened to be along the way," Stearns said. "The people in black hoodies and duct tape, throwing rocks, breaking windows — we didn't want them there."
A year later, mediators visited the small Finger Lakes town of Geneva, N.Y., after an officer shot a 33-year-old black man, and demonstrators gathered in front of the city police department. An officer thought the man had a gun. Police found two cellphones.
Geneva Police Chief Jeffrey E. Trickler said, in the aftermath, mediators helped bring community members, city leaders and police together to list concerns. They concluded with a community compact, adding police training, increasing minority recruitment and improving complaint procedures, among other things. "Anything we felt we needed, they were a phone call away," Trickler said. "From my eyes, things have improved."
And in 2012, after Philadelphia police shot a 25-year-old Cambodian man, community leaders accused officers of harassment and mockery. Federal mediators came in and helped organize a meeting for them all, shoeless, on prayer mats in a local Buddhist temple.
Sokhom Touch, a Cambodian activist at the time, said the meeting helped, "a lot."
"It's gotten a lot better since then," Touch said.
The mediation team, all the while, remained so stealthy, Touch didn't even know they were involved.
And that's how the agency has always worked, most say.
"They don't like to talk to the press, and don't like to talk about what they do," said Rue Landau, chief of the Philadelphia Commission on Human Relations. That secrecy, Landau said, is in part why the agency is so effective.
"I believe CRS can go in," she said, "and resolve the Hatfields and McCoys."
'WE'VE GOT AN ISSUE'
Federal law has given the agency broad authority to act in secrecy, and judges have upheld that law, albeit rarely, over time. They've even blocked Community Relations Service staff from testifying in court or turning over written reports of incidents as evidence.
Local pastors, nonprofit leaders and community activists here say federal mediators have been in and out of St. Louis for years, responding to complaints and quietly negotiating between the community and police departments, nearly always under the radar.
"I can't name all the times we'd call a police department or police chief, and say, 'Hey we've got an issue.' Sometimes they respond; most of the time they don't. And an enormous amount of the time the response is one of protecting the force and their officers," said Adolphus Pruitt, president of the St. Louis city branch of the NAACP.
But when Justice Department mediators get involved, he said, there's "never a time when they couldn't bring parties to the table."
They brokered the 2012 agreement between the NAACP and Pine Lawn police that led to that department's citizen review board. That same year, they organized meetings with the NAACP and the St. Louis Police Department regarding police use of personal cellphones.
And they worked with Kirkwood neighbors, pastors and city officials for nearly two years after resident Charles Lee "Cookie" Thornton shot and killed six at a City Council meeting in 2008.
Kirkwood United Methodist Church Pastor David Bennett said a seven-member group met with the Justice Department as often as every two weeks. The group identified community concerns — not always unanimously — and brought those concerns to the city.
Two years later, they had a 13-page agreement, which expanded police duties, added youth programs and gave Kirkwood's human rights commission real authority, among other things.
"Right now, in Ferguson, the city desperately needs a structure like this," Bennett said. "We need to get a lot of these folks from out of town out of town and let Ferguson be who it needs to be."
'WHO'S IN CHARGE?'
Two Sundays after Michael Brown's shooting, Rita Valenciano, the first Justice Department mediator to arrive in Ferguson, called a morning meeting of nine community leaders in a conference room at the Marriott Courtyard downtown. It's unclear exactly who attended.
Patricia Washington, County Executive Charlie Dooley's communications director, was there.
They talked for three hours. "No breakfast. No orange juice. No nothing. Just us in a room."
The conversation was tense, she said. Ferguson police and city officials were there. Some in the room didn't want to sit down with them. "I don't know why you're here," Washington remembers one saying.
Still, there was also a collective sigh of relief, she said.
Before that meeting, "nobody was talking," Washington said. Everyone had their own agencies, their own agendas, from Canfield resident aid to protester rights. "Everybody was just responding," she said. "People started to say, 'Who's in charge?'"
The group has now changed, with some of the originals dropping out, and it has grown, to more than 50, Washington said. The difficult discussions aren't gone. But at least they're happening.
"These issues aren't going anywhere," said one member, Bishop Zacheriah Davis. "It's high time we address them."
Moreover, Valenciano and fellow mediator Darryck Dean have provided tangible help: training for those who want to protect protesters. Firm direction to get through tough subjects. And authority to get information.
It's far from over, Washington said. She's been trying for weeks to get young, angry black men to come to the meetings, as of yet to no avail.
Still, she said, now they're calling her.
And four, she said, have promised to come to their next meeting.