Sept. 10, MTL: Festival Defund La Police + MTL vs Racisme
There are two events in Montreal's NDG neighbourhood—Parc Girouard to be specific!—on Saturday, September 10th, and even if Kersplebedeb weren't tabling at both of them (which we are!) we'd be encouraging you to go.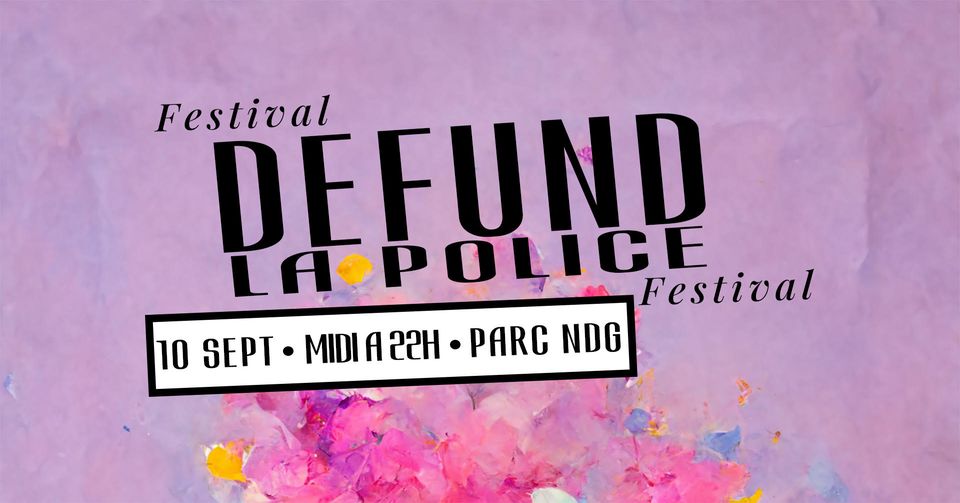 Noon to 10pm – Festival Defund la Police
https://www.facebook.com/events/600897598360188
Defund la Police Festival is an event dedicated to defunding the police, reinvesting in communities, and a creating safer city for everyone.
The festival will include a series of talks and workshops on various aspects of community based safety, music and art, food and games, and many opportunities to make new friends and get more involved in the movement to create safer communities.
The day starts at noon. Workshops and talks will occur from 13h to 18h. There will be activities for children all day. Free food and art exhibits.
At 18h, a whole night of music will be provided as part of MTL Versus Racisme.
Mark your calendars. More information coming soon!
The festival is organized by QPIRG in collaboration with the Defund the Police Coalition

6pm to 10pm – MTL vs Racisme
A concert. Raising funds for Resilience Montreal. United against racism and discrimination: In a climate where racist and discriminatory rhetoric is openly and aggressively expressed in public, a time when hateful acts are hitting our communities hard, it is time to respond with action and with solidarity.
JONATHAN EMILE
www.facebook.com/JonathanEmile
SHAUIT
www.facebook.com/Innureggaeman
MARITZA
www.facebook.com/MaritzaPageOfficielle
REMY PICA$$0
www.facebook.com/REMYxPICASSO
PAUL CARGNELLO
www.facebook.com/paulcargnello
DJ LADY ORACLE
www.facebook.com/djladyoracle