Silvia Federici : Un salaire pour le travail gratuit (FR/EN)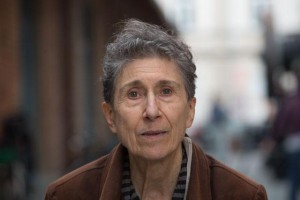 Jeudi le 18 mai, à 19h / Thursday May 18 at 7pm
Collège de Maisonneuve, au Vivoir (local B-2210)
3800, rue Sherbrooke Est, Montreal
À proximité du métro Joliette et Pie-IX (entrée libre)
By Joliette and Pie-IX metros, free admission
*** FRANÇAIS SUIVRA ***
CONFERENCE – DISCUSSION
A SALARY FOR UNPAID WORK: A REVOLUTIONARY PERSPECTIVE
With SILVIA FEDERICI, activist and author of "Wages Against Housework" and of "Caliban and the Witch"
Since the 1970s, Silvia Federici, a leading figure in the Wages for Housework campaign, has been advocating for the importance of fighting for wages for women's work. This feminist strategy aims to end the association between women and unpaid work and, doing so, exacerbate the contradictions of capitalism. This international campaign has at the same time launched a general struggle for the recognition of unpaid work, in particular that of housewives, students, sex workers and migrant workers.
Today, these demands echo the international Ni una menos call for a women's strike issued on March 8th. It explicitly denounced the various forms of violence experienced by women by highlighting the extent of women's work. It is in this spirit that on May 18, Silvia Federici will discuss current feminist perspectives to counter exploitation and domination as well as the contribution of these to the revolutionary movement of our time.
This conference is organized by the activists of the Comités unitaires sur le travail étudiant (CUTE), who have set in motion a mobilization campaign for the recognition of student work as intellectual work that deserves wages and good conditions. The Comités call for an interns' strike, a women's strike, as the student component of the struggle for the recognition of unpaid work.
Thursday May 18 @ 7 PM
Collège de Maisonneuve, at the Vivoir (room B-2210)
Near Joliette and Pie-IX stations, Montreal (free admission)
Conference in French and in English (free live French-to-English translation service available on site)
Vegan snacks available on site
Babysitting available on request by Facebook CUTE Campagne sur le travail étudiant. Just request the day before the event.
Organized by CUTE Campagne sur le travail étudiant
*********************************
CONFÉRENCE – DISCUSSION
UN SALAIRE POUR LE TRAVAIL GRATUIT: PERSPECTIVE RÉVOLUTIONNAIRE
Avec SILVIA FEDERICI, militante et auteure de "Salaire contre le travail ménager" et de "Caliban et la sorcière"
Par les CUTE Campagne sur le travail étudiant
Silvia Federici, figure de proue de la campagne Du salaire au travail ménager (Wages for Housework), défend depuis les années 1970 l'importance de lutter pour la rémunération du travail des femmes. Cette stratégie féministe vise à mettre fin à l'association entre femmes et travail gratuit et, par le fait même, exacerber les contradictions du capitalisme. Cette campagne internationale a lancé du même coup une lutte générale pour la reconnaissance du travail gratuit, notamment celui des ménagères, des étudiant.es, des travailleuses du sexe et des travailleurs.euses migrant.es.
Aujourd'hui, ces revendications font écho à l'appel international NiUnaMenos à la grève des femmes lancé le 8 mars dernier. Il dénonçait explicitement les diverses formes de violences vécues par les femmes en rendant visible l'étendue du travail des femmes. C'est dans cet esprit que Silvia Federici discutera le 18 mai des perspectives féministes actuelles pour contrer l'exploitation et la domination ainsi que la contribution de celles-ci au mouvement révolutionnaire de notre époque.
Cette conférence est organisée par les militant.es des Comités unitaires sur le travail étudiant (CUTE), qui ont mis en branle une campagne de mobilisation pour la reconnaissance du travail étudiant en tant que travail intellectuel qui mérite salaire et bonnes conditions. Les comités lancent un appel à une grève des stagiaires, une grève des femmes, qui constitue le volet étudiant de la lutte pour la reconnaissance du travail gratuit.
Jeudi le 18 mai, à 19h
Collège de Maisonneuve, au Vivoir (local B-2210)
À proximité du métro Joliette et Pie-IX, Montréal (entrée libre)
Présentations en français et en anglais
Collation végétalienne servie sur place
Service de garde disponible sur demande par message Facebook à CUTE Campagne sur le travail étudiant avant la veille de l'événement