Slingshot Organizer 2019 Pre-Order Sale – Kersplebedeb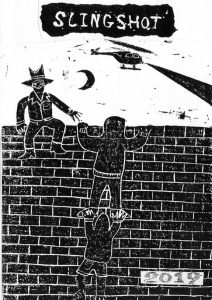 The 2019 Slingshot organizers should be arriving in Canada in late October!
By far the most popular way for anarchists to stay organized, complete with mini-calendar, daybook planner, address book section, international radical contact list, and nifty what happened on this day notes scattered throughout. The artwork is always wonderful in a chaotic punk rock way.
Now in its 25th year of publication, Slingshot is a 176 page planner/agenda with radical dates for every day of the year, space to write your phone numbers, a contact list of radical groups around the globe, menstrual calendar, info on police repression, extra note pages, plus much more. Slingshot has a tough layflat binding and a laminated cover, and comes in 16 cover colors printed with either black or silver ink (depending on how dark the paper stock is)—you can see most of these on the order pages (below) — if you have a preference indicate it when ordering, we'll do our best to accommodate.
The Slingshot planner comes in two sizes, pocket size (4.25 inches X 5.5 inches) perfect bound, and a spiral bound larger size.
Kersplebedeb is the official Canadian distributor of the Slingshot organizer — this year we're trying something new, offering the Slingshots on sale for pre-order. This way, we'll hopefully avoid the expense of having to reorder separately if we run out of organizers, and also avoid the problem of having to refuse orders because we don't have enough left.
Large Slingshot Organizers will have a wholesale price of $12.15, and small Slingshot Organizers will have a wholesale price of $8.10. Combine them with other titles, and if your total comes out to over $50 shipping is free!
You can pre-order the Slingshot organizers from leftwingbooks.net:
desktop:
https://www.leftwingbooks.net/book/content/slingshot-desktop-organizer-2019
pocket:
https://www.leftwingbooks.net/book/content/2019-slingshot-pocket-organizer
We should also say, that depending on the size of your order, it may be less expensive to get them directly from the Slingshot people in California, who can be contacted at slingshotcollective@protonmail.com. Generally, it is less expensive to order from me if you are getting less than one full box (44 pocket size or 11 large size + 17 pocket size), otherwise it may be less expensive from them.
You can still order Organizers from me if you do not preorder, however the price will be higher, and quantities available may be limited.