Solidarity Action Day with 1492 Landback Lane and All Indigenous-Led Land Defending Demonstrations Across Turtle Island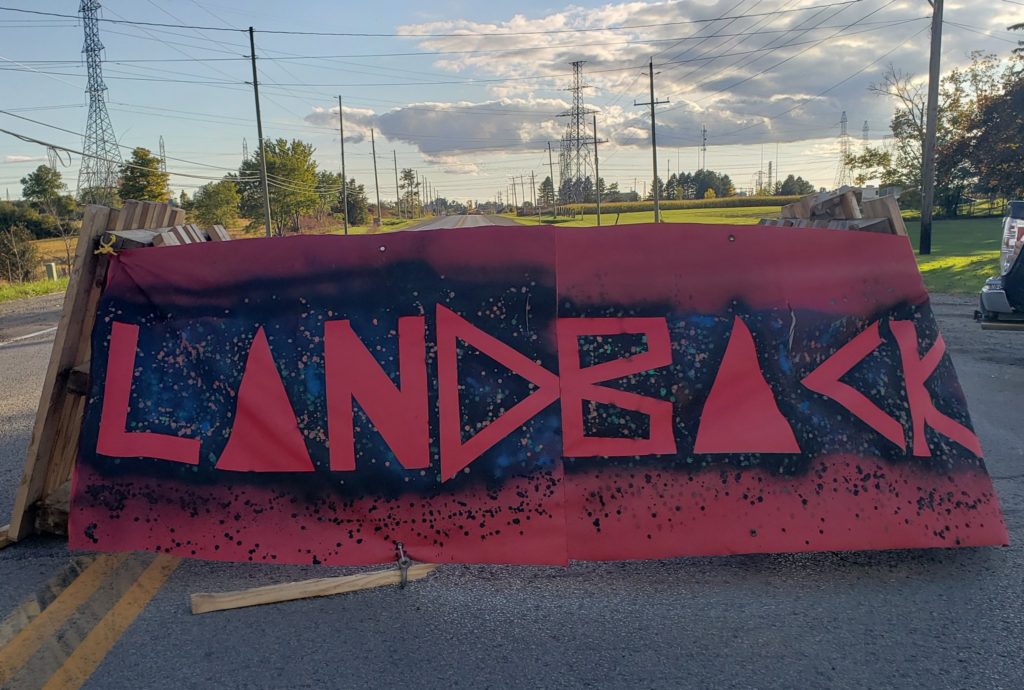 Official Facebook event: https://www.facebook.com/events/1049347945523775/
SOLIDARITY ACTION DAY WITH 1492 LANDBACK LANE AND ALL INDIGENOUS-LED LAND DEFENDING DEMONSTRATIONS ACROSS TURTLE ISLAND
Where ? Wolf Park (St-Urbain x Maisonneuve)
When ? October 9th, from 1-7pm
What ? As part of the Day of Action called by Land Defenders at Six Nations a coalition of groups is organizing an indigenous cultural gathering and then a demonstration in Tiohtiá:ke (Montreal)
**DETAILS FOR THE DAY**
1pm – 4pm – Gathering
On October 9th, we are organizing a gathering space for Indigenous community members and allies in Tiohtiá:ke (Montreal) in solidarity with Haudenosaunee and allies of the 1492 Land Back Lane land defending mobilization. This space will amplify connectivity and reciprocity. We will amplify the messages of defenders protecting their lands and waterways for the future of their communities, as well as celebrate the strength of Indigenous community members in Tiohtiá:ke. There will be food, music, singing and dancing! **Indigenous community members are invited in the inner circle of the gathering, and allies are welcomed to stay in the outside circle.**
4pm onwards – Demonstration
Bring signs, banners and things to make noise
**CONTEXT**
Land Defenders of 1492 Land Back Lane located near Six Nations are protecting an area of land threatened by housing developers. Earlier in August, the police served an injunction to the Land Defenders peacefully asserting their sovereignty while saying "no" to the ongoing development threatening the well-being of Haudenosaunee territory. The police protects the capitalist interest of housing developers. While serving this injunction, police shot rubber bullets into the crowd and arrested several people at and around the site.
The Ontario Provincial Police since then arrested Indigenous journalists trying to keep this struggle visible and over 20 allies.
What's happening at Land Back Lane is a part of broader struggles against the ongoing encroachment of a colonial-capitalist system on Indigenous land. We are also witnessing a continent-wide uprising led by Black people, many whom are descendents of the African diaspora stolen from their Indigenous homelands and brought to Turtle Island by White  Europeans.
The state and corporate entities mobilize the police to brutally suppress and quell Indigenous-led and Black-led uprisings. Resistance and organizing by Indigenous and Black peoples threatens the foundations of KKKanada, the white supremacist institutions that shape it, and the foundations of genocide and slavery that so-called Canada was built upon. The police continue to terrorize, invade, murder and target Indigenous,  Black and racialized people everyday. The police must be abolished!
Come and join this initiative to show solidarity with the Defenders of 1492 Land Back Lane and all those resisting on the frontlines of the white-supremacist colonial state!
OPP OUT OF SIX NATIONS!
RCMP OFF WET'SUWET'EN TERRITORY!
SQ OFF MOHAWK TERRITORY!
NO POLICE ON STOLEN NATIVE LAND!
<><><><><><><><><><><><><><><><><><><><><><><>
October 9th is also an opportunity to highlight the ongoing land back demonstrations and to showcase
widespread solidarity:
Six Nations territory
1492 Land Back Lane: Six Nations Land Defenders have mobilized to stop the the Mackenzie Meadows housing development project bordering the town of Caledonia.
Facebook : https://www.facebook.com/groups/1656879034481566/about
Fundraising (or by e-transfer at landback6nations@gmail.com) : https://www.gofundme.com/f/legal-fund-1492-land-back-lane
Akwesasne territory
Landback Language Camp: to reclaim the contested area under the Dundee Claim, Akwesasne
Facebook: https://m.facebook.com/Kanienkehaka-Land-Back-Language-Camp-107592151074955/
Fundraising: https://www.facebook.com/groups/359638171891649/
Tkaronto
Project Land Back are in the process of taking stewardship of Taylor Massey Creek Park. They have renamed the space Wiigwaasikaa, which means "there are many birch trees" in Ojibwe.
Facebook : https://www.facebook.com/Project-Land-Back-Wiigwaasikaa-107880394364234
Wendat-Atikamekw-Innu territories
Forêt du lac à Moïse : Protection du dernier massif forestier non touchée par l'industrie forestière dans le secteur du lac à moïse au nord de Québec. Vigiles sporadiques de Wendats et complices pour garder un oeil sur les développements de l'industrie.
Plus d'infos : https://foret9.wordpress.com/ & https://journalskarihwati.wordpress.com/2020/08/25/foret-vierge-du-lac-a-moise/
Anishinabe territory
Moratoire sur la chasse sportive aux orignaux dans le Parc de la Vérendrye
Facebook : https://www.facebook.com/groups/372217760398748
Call to action : https://contrepoints.media/posts/blocage-pour-un-moratoire-sur-la-chasse-a-lorignal-appel-a-la-solidarite
Fundraising : https://www.facebook.com/donate/619309778781750/
(ended) Blocage contre les coupes près de Kitcisakik
https://ici.radio-canada.ca/nouvelle/1734232/barrage-coupe-forestiere-bois-verendrye-kitcisakik
Mi'kmaq territory
Blockade in Saulnierville, NS : The Mi'kmaq have taken over the wharf in Saulnierville, putting up a blockade on Friday evening, after non-indigenous fishermen attacked Mi'kmaq fishermen.
Appel à shut down l'Atlantique: https://contrepoints.media/posts/what-is-happening-in-digby-wharf-nova-scotia-en-fr-que-se-passe-t-il-au-quai-de-digby-en-nouvelle-ecosse#Que
Levée de fonds : Envoyez des fonds par e-transfert à Tamarie.nf@gmail.com et écrivez dans les commentaires que c'est un don pour les warriors Mi'kmaq.
SOLIDARITY WITH ALL INDIGENOUS LAND BACK DEMONSTRATIONS !
ABOLISH THE POLICE!