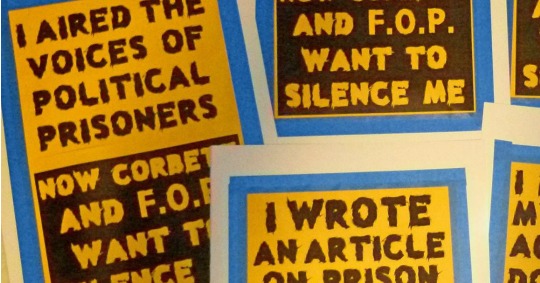 On Tuesday, October 21st, Pennsylvania Governor Corbett signed into law the "Revictimization Relief Act", which will allow prosecutors and victims of a violent crime to sue the offender for "conduct which perpetuates the continuing effect of the crime on the victim." The law went into effect immediately.
This legal assault in its conception is aimed at one prisoner in particular: Mumia Abu-Jamal. It was drafted as a direct response to lobbying from the Fraternal Order of Police, the cops' union, which was driven rabid by the recent decision of Goddard College in Vermont to invite Mumia to give this year's Commencement Speech. (Mumia earned a bachelor of arts degree at Goddard from prison in 1996.)
Indeed, the governor made no bones about this being essentially a "Gag Mumia Law"; as a publicity stunt he signed the bill on the very street corner where police officer Daniel Faulkner was killed (according to the state, by Mumia), explaining that the law "was inspired by the excesses and pious hypocrisy of one particular killer."
So ostensibly, this "Revictimization Relief Act" is a direct attack on Mumia. But it is also an attack on other political prisoners and prisoners of war, potentially allowing the state to prohibit the publication or dissemination of their writings, words, and ideas. And beyond that, it is an attack on all prisoners, potentially depriving them of the right to publicly discuss their cases, how they ended up in prison, or the nature of their imprisonment. Prisons in the united states serve as an institution of genocide, intended specifically to disrupt and traumatize oppressed peoples and their communities. It is a perverse but entirely natural development that those who are supposed to be condemned to "social death" are to also have their words and ideas further criminalized.
Furthermore, the "Gag Mumia" Law is an attack on those who work with and support prisoners on the outside. One of Mumia's supporters on the outside in the Prison Radio project, which has been recording prisoners for over 20 years, and as such regularly makes Mumia's words available to radio stations around the world to broadcast (and on the web via their site, for instance you can listen to them here). As such, it makes sense that Prison Radio — represented, alongside Mumia, by the Abolitionist Law Center and the Amistad Law Project — is taking the lead in organizing against this new repressive attack. A "Prison Radio Defense Fund" has been launched, and received a 45K matching grant from Prison Radio's parent organization, the Redwood Justice Fund.
This fight is about to move into the courts, either as Pennsylvania moves to sue Mumia and his supporters, or as Mumia and his supporters launch a challenge to this new legislation. Things people can do to help:
1. Be one of the first folks to jump on board — as Prison Radio keeps airing prisoners and preparing for this legal battle, they need to raise funds. They have launched a $45K campaign, and when people donate before December 31, 2014, your gift will be doubled thanks to a matching donation from The Redwood Justice Fund!
2. Help Prison Radio amplify their Indiegogo campaign by forwarding this information to everyone you know who can help
As Prison Radio folks have said, "We will win this lawsuit…. We will continue to record Mumia… We can uphold all prisoners' rights to speak their truth… But we need your help to do it. We can not do it alone, but we can do it together."
3. You can also send a check or donate money online. To pay online, click here. To send a check, please send to: Prison Radio/RFJ PO Box 411074, SF, CA 94141. Prison Radio also accepts gifts of stock, and legacy gifts, please call them and they can help you make those arrangements 415-706-5222. Prison Radio is a project of the Redwood Justice Fund is a CA 501(c3) non profit organization, Tax ID #68-0334309.
4. Broadcasting Mumia Abu-Jamal and other prisoner's voices is the best antidote to this right-wing attack. Mumia's commentaries are available at http://www.prisonradio.org/media/audio/mumia (and other prisoners can be heard at http://www.prisonradio.org/media/audio); to get on a list to receive news about new broadcasts, email info@prisonradio.org.
5. Let people know about this attack on prisoners' rights. For press inquiries, contact Noelle Hanrahan at info@prisonradio.org.