The War Before: Remembering Safiya Bukhari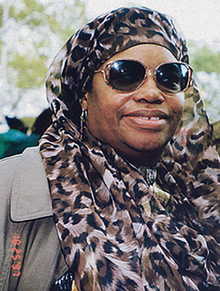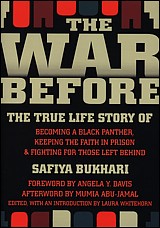 Born in Harlem, Safiya Bukhari joined the Black Panther Party in 1969. Imprisoned for nine years on a robbery and murder charge, Bukhari was released in 1999 and went on to co-found the New York Free Mumia Abu-Jamal Coalition and other organizations advocating for the release of political prisoners. She died in 2003 at the age of 53.
As the book False Nationalism False Internationalism details, following the split in the Black Panther Party:
In New York the revolutionary wing of the party quickly moved to reorganize itself. A Bronx office became the new Central Headquarters. To replace the old Black Panther newspaper, the revolutionary wing began publishing Right On! under the editorship of Safiya Asya Bukhari. For two years Right On! served as a voice of the armed struggle. It was both lively and politically serious, and unlike The Black Panther, maintained a healthy dialogue. Guerrilla actions were evaluated, 'rads on the inside helped to exchange views, news from Afrika and inside Babylon spread. Expropriations and other preparations had already begun. On May 21, 1971, a B.L.A. unit corrected N.Y.P.D. patrolmen Joseph Piagentini and Waverly Jones. That was a celebration of Malcolm's birthday. Other attacks on police and police stations followed. As did counter-attacks from the political police. Safiya recalls:

"When the split went down in the Black Panther Party, I was left in a position of Communications and Information Officer for the East Coast Party. It wasn't until much later that I was to find out how vulnerable that position was."

"Most of the members of the Party went underground to work with the Black Liberation Army (BLA). I was among those who elected to remain aboveground and supply necessary support. The murders of youths such as Clifford Glover, Tyrone Guyton, etc. by the police, and retaliation by the BLA with the assassination of pigs Piagentini and Jones and Rocco and Laurie, made the power that be frantic, and they pulled out all the stops in their campaign to rid the streets of rebellious slaves."
On January 21st, 2010, WBAI's Where We Live featured an hour devoted to the legacy of Safiya Bukhari, specifically the recently published book of her writings, The War Before: The True Life Story of Becoming a Black Panther, Keeping the Faith in Prison, and Fighting for Those Left Behind.
Hosts Sally O'Brien and Dequi Kioni-Sadiki talked with Safiya Bukhari's daughter; Wonda Jones, former political prisoner, writer and activist, Laura Whitehorn and Panther Sister Pam Hanna. There's also a rare audio clip of Safiya herself!
To listen to the show, click here.
Also, check out this interview with Safiya conducted in New York City, September 27, 1992 and distributed by Arm the Spirit via e-mail for International Women's Day 1995.
And be sure to check out the website https://safiyabukhari.com/