The Work of Settler Colonialism II: Emergent Solidarities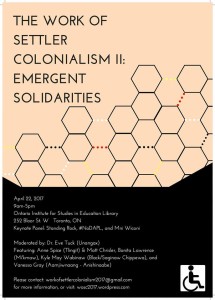 The Work of Settler Colonialism Symposium was launched in April 2016 at the Graduate Center of the City University of New York (see page of 2016 event: https://tinyurl.com/wosc2016). This event brought together conversations between the emerging field of settler colonial studies and scholars engaging in the continual crises of neoliberal capitalism with new approaches to labour, capitalism, and resistance against the contemporary issues of late capitalism. This convergence of fields brought to light the interrelations of settler colonialism, anti-Blackness, and neoliberal capitalism as they operate through and within each other. The symposium offered scholars across interdisciplinary fields the opportunity to and generate unique lines of inquiry and envision new alliances for resistance and movement building.
We are very excited to present the second Work of Settler Colonialism Symposium, with a focus on Emergent Solidarities. This conference includes writers, activists, and scholars who expand on the collaborations, contradictions, and possibilities that arise when we organize within and against settler colonialism. This is especially pertinent when situated alongside processes of the exploitation of migrant labour, racial slavery and its afterlife, imprisonment, the expansion of extractive industries, and the corresponding struggles that have emerged out of these conditions.
The future of the settler state will be brought about through the work of reproducing social, economic, and political life in its many spaces and forms. Therefore, a central question of this symposium is: how might we interrupt this labour, and instead work towards anti-colonial and decolonial futures?
==============================
The conference will take place at the U of T OISE Library. The venue is wheelchair accessible. Please contact us for other acccessibility needs or if you have any further questions.
Lunch will be provided to those attending the conference.
******PLEASE REGISTER HERE: https://tinyurl.com/wosc2017registration
==============================
Our program is as follows and can also be found at our website: https://wosc2017.wordpress.com/
9:00 – 9:30 Registration
9:30 – 10:00 Opening Ceremony and Welcome
10:00 – 11:05 Panel #1: "From Turtle Island to Palestine, Occupation is a Crime"
– Claire Stewart-Kanigan (University of Victoria), "(En)countering Colonial Violence: Challenges in Community-based Sex Work Advocacy on Lekwungen and WSANEC Territory"
– Rana Sukarieh (York University), "Your Cause is Mine: The Strategy of Boycott, Divestment and Sanctions Movement in Building Solidarity Alliances"
– Yara Hawari and Francesco Amaruso (University of Exeter), "Including Palestine in Indigenous Studies: Challenges and Opportunities"
11:15 – 12:45 Panel #2: Against Extraction
– Shiri Pasternak (Trent University), "Lawyers, Consultants, Accountants, Insurers: The Shadow Economy of Colonization"
– Jen Preston (York University), "Dismantling 'White Possession': White Settler Colonialism and 'Racial Extractivism' in Canada"
– Derek Kornelson (University of Manitoba), "Deconstructing Settler Colonial Domination: Implications for land-protectors and Indigenous-Settler alliances"
– Eva Portillo (York University), "Decolonizing Settler Colonialism"
12:45 – 1:30 Lunch
1:30 – 3:00 Panel #3: Unsettling Subjectivities
– Ben Kapron (York University), "Settler Grounded Normativity: Learning Settler Decolonization through Engagement with Land"
– Jamey Jesperson (New School), "Queer Resistance on Stolen Land: Trans* Settler Accountabilities in EnGendering Decolonization & the Collateral Queer Damage of Settler Colonialism"
– Dolores Calderon (Western Washington), "Mestizo Longing as a Settler Futurity along the U.S./Mexico Borderlands"
– Adam Lewis (York University), "Social Movements, Prefiguration and Settler Colonialism: From Radical Imagination to Decolonial Futures?"
3:15 – 5:15 Keynote Roundtable
Moderated by:
Dr. Eve Tuck (Unangax), Ontario Institute for Studies in Education (OISE), University of Toronto
Featuring:
– Bonita Lawrence (Mi'kmaw), York University
– Vanessa Gray (Anishinaabe), Aamjiwinaang & Sarnia Against Pipelines
– Kyle Mays Wabinaw (Black/Saginaw Chippewa), University of North Carolina
– Anne Spice (Tlingit), CUNY Graduate Center
– Matt Chrisler, CUNY Graduate Center
5:15 – 5:30 Closing Ceremony
We look forward to seeing everyone there!