Torkil Lauesen Interviewed on RevLeft Radio: The Principal Contradiction, Applying Dialectical Materialism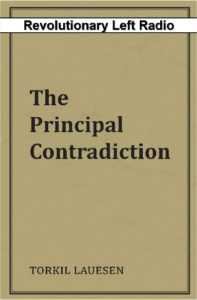 Revolutionary Left Radio is a podcast that addresses Communist Philosophy, Proletarian History, Critical Theory, & Revolutionary Politics. In their most recent episode, Breht talks to Torkil Lauesen about his newest book "The Principal Contradiction". In this discussion, Torkil and Breht discuss dialectical materialism, how it is applied in real world situations, and the role that contradiction plays in it all.
You can listen to this interview here: https://revolutionaryleftradio.libsyn.com/contradiction
In the 1970s and 80s, Torkil Lauesen was a member of a clandestine communist cell which carried out a series of robberies in Denmark, netting very large sums which were then sent on to various national liberation movements in the Third World. Following their capture in 1989, Torkil would spend six years in prison. While incarcerated, he was involved in prison activism and received a Masters degree in political science. He is currently a member of International Forum, an anti-imperialist organization based in Denmark.
The Principal Contradiction was published by Kersplebedeb earlier in 2020; it can be ordered from leftwingbooks.net.
Find more of Torkil's writings HERE
LEARN MORE ABOUT REV LEFT RADIO: www.revolutionaryleftradio.com