Confronting the Violence of Capital: Historical Materialism Toronto , May 13-15, 2016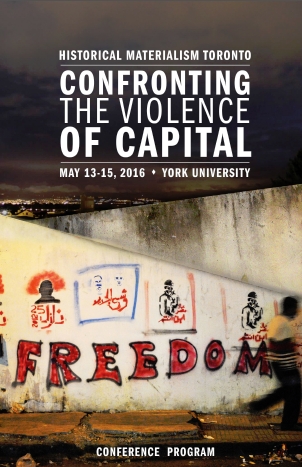 Kersplebedeb is happy to be tabling, along with PM Press, at the upcoming Historical Materialism conference in Toronto.
Where: York University (Toronto)
When: May 13-15
Capital comes dripping from head to toe in blood and dirt, and its continued reproduction has proven no less bloody. Its existence relies on systemic forms of degradation and exploitation, both spectacular and quotidian. From the violent suppression of 19th century workers movements and genocidal imperialism – from the Paris Commune to the scramble for Africa – capitalism's victories and defeats have always played out in the arena of violence.

Today, against a backdrop of permanent war, austerity measures, refugee crisis, and racist police brutality, it has become clear that violence remains the backbone of the capitalist world order. As many Left movements, from the indignados to Occupy to Black Lives Matter, are challenging the violence of capital, it is vital that we conceptualize new strategies of resistance and self-defense.

HMTO 2016 will discuss the depth and extent of capitalism's violence, in addition to reflecting on the Left's modes of resistance historically, today, and in years to come. We welcome submissions from a broad range of participants, including activists and non-academic researchers.
For more information visit http://hmtoronto.org/